Top 10 Films Named After Songs

#10 – What a Girl Wants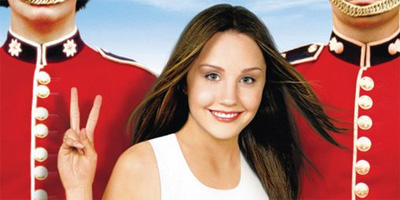 Inspired by… 'What a Girl Wants' by Christina Aguilera
Ah, look at that poster. Nothing says teeny bopper films of the early noughties like a rictus grin, tasteful vest top and Amanda Bynes. Aggy's song will always be associated in our brains with girl power and glittery jeans but, once you've seen this film, it'll also be associated with Colin Firth being both Amanda Bynes' dad AND a senior English politician. If only, Colin. If only.
The only real question we have left is: what is it that a girl really wants? Oh yes, that's it.
#9 – American Pie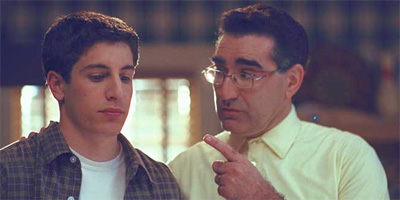 Inspired by… 'American Pie' by Don McLean
Bye bye Miss American Pie, drove my Chevy to Eugene Levy and stuck my penis in Allyson Hannigan. Join in, everyone! You know the words.
Despite its notoriously cryptic lyrics, McLean's song has gone down in history as a good ol' American anthem. Thus, screenwriter Adam Herz's delightful reclaiming of the title for a teen sex comedy was a stroke of genius. You utter the words "American Pie" to an American these days and all they'll be able to think of is Jason Biggs having his end away with a dessert.
#8 – Blue Velvet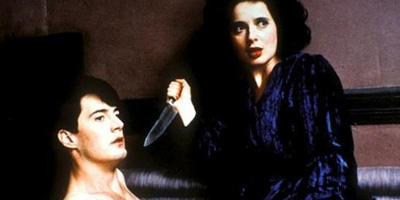 Inspired by… 'Blue Velvet' by Bobby Vinton
We'll be honest, there's not too much in David Lynch's 1986 film that calls back the lyrics of Bobby Vinton's classic pop record, an ode to a lost love. Famously, Rossellini's character Dorothy Vallens sings the title song AND she does wear a blue velvet dress (see above). But one's all "softer than satin" and the other's all "oh I found a severed ear in a field".
#7 – Pretty Woman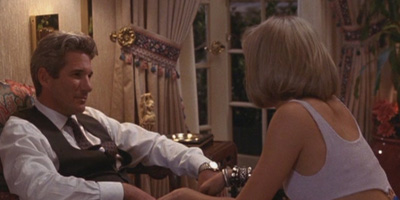 Inspired by… 'Pretty Woman' by Roy Orbison
The makers of Pretty Woman really took that whole "walking down the street" thing and ran with it didn't they? Julia Roberts – before her hair/eyebrows got all small – charmed the pants off Richard Gere and, indeed, the cinema-going populace at large, with her performance as the tart with a heart in this popular romcom. Inspired by Orbison's hit song, Pretty Woman was also partially influenced by the Verdi opera La Traviata (which features in the film), a tale of a rich man falling in love with a courtesan who then dies of TB because come on, people, this is an opera.
The weirdest thing about this song is that – if you take away all the romantic connotations – it's sort of just an anthem for guys who drive around in Volvos telling women to smile.
#6 – Jeepers Creepers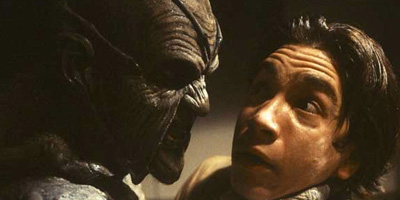 Inspired by… 'Jeepers Creepers' by Paul Whiteman and his Swing Wing
"Oh, Justin Long where did you get those peepers? I simply must have them" – The Creeper
That's our official summary of this film.
#5 – My Girl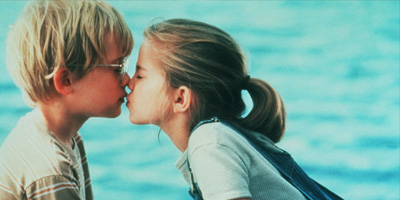 Inspired by… 'My Girl' by The Temptations
Ah, My Girl, that film with the boy and the girl and something something the end. Great song, though huh? Written by Motown legend Smokey Robinson, the song has been covered by the likes of Otis Redding, Stevie Wonder, The Rolling Stones and Dolly Parton, as well as featuring on the soundtrack to your life, probably.
Great title song aside, this film is most memorable for Macauley Culkin getting stung to death by bees, because the pagan islanders are sacrificing him to their vengeful honey gods. NOT THE BEES! NOT THE BEES!
#4 – Simply Irresistible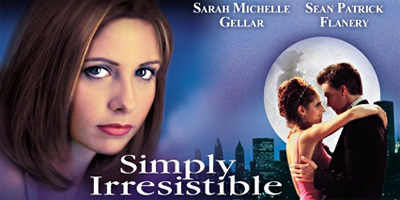 Inspired by… 'Simply Irresistible' by Robert Palmer
Simply Irresistible is about a magical crab helping Sarah Michelle Gellar become a chef. You probably already "know" this, in the same way that you "know" it's bad to stick a knife in the toaster but are still surprised when you get electrocuted. After fourteen years it is still surprising that this film is about a magical crab helping Sarah Michelle Gellar become a chef.
So how come this film gets fourth place on our list when it's only vaguely inspired by the (crab-free) Robert Palmer song? Well, Simply Irresistible is – according to our friends over at Wikipedia – most famous for being "the last movie reviewed by film critic Gene Siskel. He gave it a thumbs down". Good work team!
#3 – Peggy Sue Got Married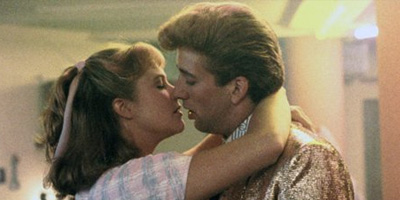 Inspired by… 'Peggy Sue Got Married' by Buddy Holly
This 1986 film – drawing heavily upon the retro connotations of its title song – follows the story of a woman called Peggy Sue (Kathleen Turner) who goes to her 25 year school reunion, faints on stage and wakes up in the year 1960. Given a chance to relive her youth, Peggy Sue makes some important decisions about her future – including giving high school sweetheart, and future unfaithful husband Charlie (Nicolas Cage), a second chance. Well come on. How could you stay mad at a guy who looks like that? Such a strong look.
#2 – The Crying Game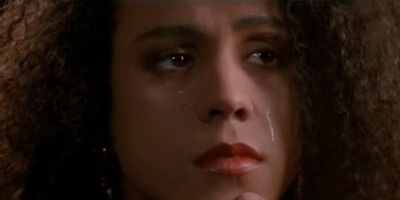 Inspired by… 'The Crying Game' by Boy George
Neil Jordan's thriller is perhaps most famous for an infamous twist in which protagonist Fergus (Stephen Rea) finds out his girlfriend Dil (Jaye Davidson) has a SPOILERS! secret penis. The song which inspired the title was originally performed by 60s teen idol Dave Berry, but covered in 1992 by Boy George, with both recordings used on the film's soundtrack.
Perhaps most fun is that Ace Ventura: Pet Detective also features 'The Crying Game' on its soundtrack. Remember that scene where Ace works out that Einhorn has a SPOILERS! secret penis? Yep. This works.

#1 – Stand By Me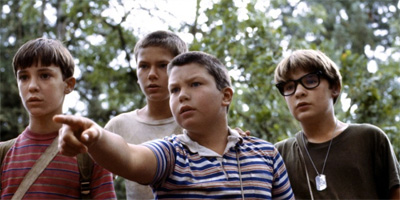 Inspired by… 'Stand By Me' by Ben E. King
It's common knowledge that Stephen King loves boring, state-the-obvious titles. Take Carrie, for instance. Think of all the awesome things that could have been called. Telekinesis Bitch! Blood Prom! Pretty in Pig! So many options, and yet he plumped for Carrie, a name now irrevocably connoted with Sarah Jessica Parker sitting in front of a laptop wearing a beret and asking herself rhetorical questions.
It's no surprise, then, that the novella that inspired Rob Reiner's beloved, coming-of-age drama Stand By Me is (boringly) entitled The Body. The choice to rename for the film was a brilliant move. Though 'Stand By Me' was originally penned as a spiritual, as the theme song for Reiner's sweet, poignant film about growing up it became an ode to friendship and standing together through thick and thin.
Let's just ignore the fact that the film ends like this:

WAY TO SHIT ALL OVER THAT BEAUTIFUL FRIENDSHIP STORY, GORDIE. JEEZ.
So have we missed anything important off this list? Are there any song titles yet to be turned into cinematic marvels? 50 Cent's anthem to the boiled sweets of his youth, "Candy Shop", perhaps?
About The Author