Top 5 restaurant staff in films

#5 – Violet, Cammie, Rachel and Zoe (Coyote Ugly)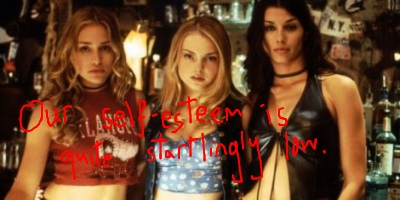 While it can be argues that not a great deal of bartending actually goes on in Coyote Ugly, there's not usually going to be complaints in a bar full of men if the girls dance around a bit and get lashed instead of serving. Every bartender ever will sympathise with the scene in which a patron asks for a tap water on a busy evening (who DOES that?!) and is promptly hosed down with water. Oh, if only.
#4 – Remy (Ratatouille)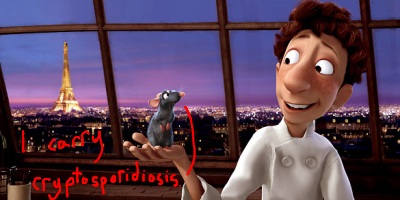 There are many things wrong with Ratatouille (particularly that everyone is speaking franglais, or frangmerican, or something). Monsieur rat wants to make his fortune as a chef in gay Paree but for some stupid and hygiene-based reason his ambition is constantly thwarted… So what else to do but find a halfwit kitchen porter and control his cooking from under his hat? Hilarity ensues, the jus and confit are delicious, the halfwit porter attempts to steal the rat's thunder, and then a visit from the health inspectors plunges the restaurant into chaos – but not before a killer review from the film's answer to A.A. Gill. Our ratty hero then sets up his own restaurant, secretly run by rats, to great acclaim. Hurrah.
#3 – The penguin waiters (Mary Poppins)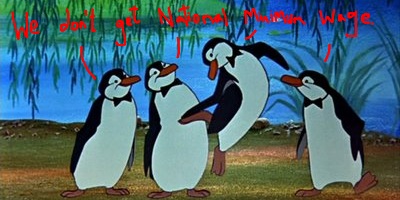 The penguin waiters from Mary Poppins, with a cameo in Who Framed Roger Rabbit? – a merry band of four (ish) happy lickle penguins with red bow ties and improbable diction. They dance with Dick Van Dyke's infuriating chimney sweep character (who must also feature on a top 5 characters I want to punch? Coming soon…) and have a wee sing-along with the carousel music. Known in Roger Rabbit for serving Bob Hoskins a 'scotch on the rocks' with an actual rock in it, not ice. Ahhhh, penguins. The one thing you think they'd know about is ice.
#2 – Maya and Stephanie (Sideways) / Brian (Cocktail)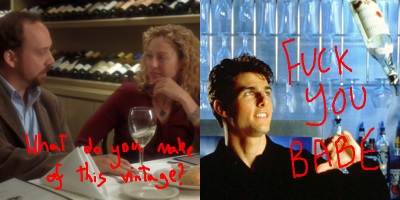 A draw between my favourite boozy waitresses in Sideways and Brian (Tom Cruise) from Cocktail. They both in their own ways use their bartending skillz to essentially bed as many people as possible! Who is there in the world who doesn't think cocktail flairing is sexy? Throwing bottles about and anti-gravity pouring really distracts from the fact you haven't been served yet. And Maya out of Sideways describes the wine process as 'evocative, complicated and sensual'… and is actually describing herself. Phwoooaarrr.
#1 – The maître d' (Monty Python's The Meaning of Life)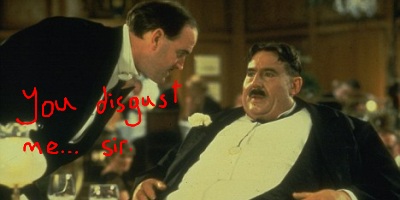 Anyone who can serve Mr Creosote 'a waffer-thin mint', be vomited over, AND present the bill to the carcass of the customer is a waiting hero. Mr Creosote, the giant chap who began his meal by asking his waiter to 'bring a bucket… I'm going to throw up', ordered (take a deep breath) moules marinières, pâté de foie gras, beluga caviar, eggs benedict, a leek tart, frogs' legs amandine and quail's eggs on a bed of mushrooms all mixed in a bucket with the quail eggs on top and a double helping of pâté, with a main course of jugged hare, with a sauce of truffles, bacon, Grand Marnier, anchovies and cream. For apéritifs, six bottles of Château Latour 1945, a double jeroboam of champagne, and half a dozen crates of brown ale…
Lad. The maitre'd keeps his cool amazingly throughout, and even has the wisdom to book Eric Idle as a pianist singing a wonderful song about willies. Who else could top this list?
Have we missed your favourite barman, waitress or kitchen porter? Is it Keri Russell in Waitress? It is, isn't it? Oh well, tell us off below.
About The Author