American Pie 4: We're All Pretty Full…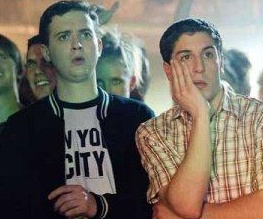 Do you ever wake up in a cold sweat, heart beating rapidly, eyes wild and one thought in your mind – 'Why, oh why isn't there an American Pie 4?'
Well those long, moist nights could soon be coming to an end. American Pie 4 just might be on the way. The last 'official' Pie film was American Wedding back in 2003, though there have been numerous horrific unofficial spin-offs such as The Book Of Love – which was released last year. Yeah. We didn't know either.
However, this time around Universal Studios want to make sure that all the original characters that we know and love – Stifler, Jim, Oz, Nadia and Michelle – are back on board, and that the script is written by Jon Hurwitz and Hayden Schlossberg of the Harold and Kumar films.
To be honest, after American Pie most of the young stars didn't really go on to star in much else – whatever happened to Jason Biggs for crying out loud? – so it could be that they flock back to film a fourth film. the question is, will it actually be any good? Early reports seem to centre the plot on a school reunion, 10 years after graduation, where hilarity and bodily fluids will probably ensue. Are you excited? Well at least it's a sequel, and not another reboot, we suppose…
Are you up for another slice of American Pie? Let us know below!
About The Author