Previews: What's Out This Week (19th Feb)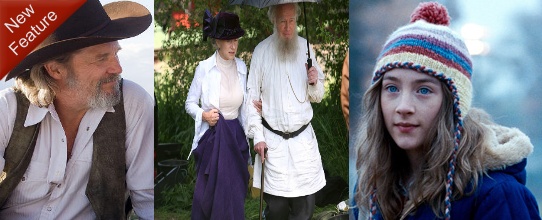 It's always nice to stay ahead of the curve, if only so you can feel unneccessarily smug in front of friends and loved ones. With this in mind Best For Film brings you what you need to know about next week's film releases. Have a read, plan your week accordingly, and practice that lovely self-satisfied smile we all love you for…
The Lovely Bones
[FLOWPLAYER=http://uk.clip-1.filmtrailer.com/2747_6670_a_3.flv,275,180]
Based on the novel of the same name by Alice Sebold, The Lovely Bones documents "A life, and everything that came after". It's story centres around a girl named Suzie Salmon, who is brutally murdered by a neighbour. From her own vision of heaven, Suzie looks down upon her old life, and tries to help her family solve the mystery of her death. The film has been criticised for "beautifying" the murder, and for taking out major plot points that made the book so famous, but with Peter Jackson on board as Director, it's sure to be a hit.
Anticipation rating: 3/5
A Closed Book
(click pic for trailer)
A Closed Book stars Tom Conti and Daryl Hannah, and tells the story of a blind man who wishes to write an autobiography. The gent (who apparently has no eyes, rather than just being blind), hires a young woman to write for him in his reclusive mansion, and strange things begin to occur. The unseeing man begins to suspect the woman he hired has an agenda of her own, and a high-tension game of cat and mouse ensues. According to early reviews A Closed Book is an absolute stinker, with ridiculous performances from both Conti and Hannah and has virtually no plot whatsoever. Oh dear. It might be so bad it's good?
Anticipation rating: 1/5
Crazy Heart
[FLOWPLAYER=http://uk.clip-1.filmtrailer.com/3914_10071_a_3.flv,275,180]
This is the much anticipated country-music-fest starring Jeff Bridges in an Oscar-nominated performance. It tells of Bad Blake, a 57-year-old, alcoholic, former country and western star who's reduced to playing bars and bowling alleys across the country just to keep the booze flowing. However, when he tentatively begins a relationship with aspiring music journalist Jean (Maggie Gyllenhaal), he gets a glimpse of a better life, particularly when he bonds with her four-year-old son. All the facts are pointing towards this being a well-directed, subtle and poignant country romp, and it'll be nice to see Jeff back on terrific form.
Anticipation rating: 4/5
The Last Station
[FLOWPLAYER=http://uk.clip-1.filmtrailer.com/3383_9494_a_3.flv,275,180]
The Last Station is another adaptation, based on a novel by Jay Parini and centres around the last few years of Leo Tolstoy's life. Christopher Plummer (yes!) stars as Tolstoy, Helen Mirren as his wife and James McAvoy as his newly appointed secretary. The plot follows the dispute about what will happen to Tolstoy's work once he is dead, with his family and his loyal disciples pulling the great man in different directions. The film earned Mirren a Best Actress Oscar nomination, so it's probably worth seeing it for that alone, but it will also be great to see Christopher Plummer in such an iconic role.
Anticipation Rating: 4/5
Soloman Kane
(click pic for trailer)
Directed by Michael J Bassett, Solomon Kane is based on the character created by Robert E. Howard and stars James Purefoy as Captain Solomon Kane, a vicious killer of the 16th century who unexpectedly encounters the Devil's Reaper. He informs Solomon that the Devil has laid claim to his corrupt soul, and to be saved he must renounce his violent ways. But with an evil overlord doing seriously bad stuff in the town nearby, it could be that Solomon must use his dark skills to save others. Word is that this is a refreshingly cliche free bloodthirsty romp, but that it has an ending that rather disappoints in terms of a final showdown. Jury's out till we see it.
Anticipation Rating: 2/5
The UnLoved
(trailer not available, sad times)
Minimal and tightly written, The Unloved is a directorial debut from Samantha Morton, and is a semi-autobiographical drama based on Morton's own childhood. Newcomer Molly Windsor stars as 11-year-old Lucy, who is beaten by her father (Robert Carlyle) and is subsequently placed in a care home by her social worker. taken under the wing of bolshy teen Lauren, Lucy soon begins to discover the joys of shoplifting and makeup, but her new life is not all it seems, and she soon finds herself wishing for the love of her family. The Unloved looks to be a subtle and strongly scripted debut from Morton, and with the success of Precious still ringing in the charts, it could be the perfect time to release it.
Anticipation Rating: 4/5
What are you most excited about? Feel like we've missed anything? Let us know below!
About The Author