Are you dreaming of a Green Christmas?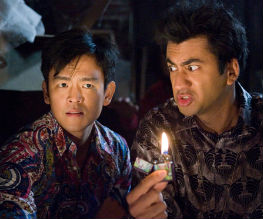 If so, it seems like your prayers have been answered. We can confirm that everybody's favourite silver screen stoner duo Harold and Kumar are set return to our screens for a Christmas-themed third instalment of the film series.
Tentatively titled A Very Harold and Kumar Christmas, the shooting of the film is likely to see Kal Penn end his US government role as Associate Director of the White House Office of Public Engagement (phew!). Penn will of course be joined again by on-screen sidekick John Cho, and it's rumoured that Neil Patrick Harris will be returning for another side-splitting cameo.
Shooting is set to take place this summer in time for a seasonal release either Christmas 2011 or 2012, as the film's directors become the latest moviemakers seeking to hop on board the 3D bandwagon. Whilst no plot details have been revealed we can speculate that the movie will involve hilariously hazy escapades and see the pair eating their own weight in turkey. Probably.
Have you got the munchies again? Or are you all smoked out? Tell us what you think below…
About The Author