Bradley Cooper's Limitless Trailer Arrives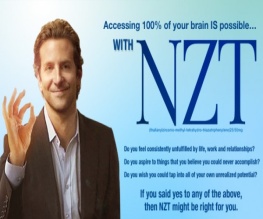 The story of Limitless, previously entitled The Dark Fields, will no doubt have certain people up in arms. It follows Bradley Cooper's character as he struggles through life as a failing writer. His luck changes though after a chance encounter with an old friend who brings about a miracle drug. After taking the precious pill, Cooper goes from struggling with creativity, to using the full potential his brain power has to offer. The idea that a drug is the solution to all his problems might not appeal to everyone but the story looks promising. Check it out:
Robert De Niro and Abbie Cornish are the two other big names involved in this film and their presence alone definitely has something to say about what we can expect. While the outline for the film suggests a drama, the footage from the trailer also gives off an air of the thriller and with De Niro attached, there will definitely be some intense moments in the final product. Limitless hits the cinema screen March 2011.
About The Author