RIP Blake Edwards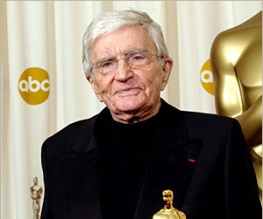 Honorary Oscar winner Blake Edwards has died aged 88.
The director, whose best known films include Breakfast at Tiffany's and seven of the films in the Pink Panther series (including all of Peter Sellers' outings as Inspector Clouseau), recently celebrated the 41st anniversary of his marriage to musical star Julie Andrews.
He was awarded an honorary Academy Award in 2004 for his "extraordinary body of work", which included 1962 Jack Lemmon drama Days of Wine and Roses and genre-defining 1979 comedy 10, the film credited with establishing the careers of Bo Derek and Dudley Moore. He struggled with chronic fatigue syndrome and, partially as a result of the condition, had not worked since directing 1993's direct-to-video flop Son of the Pink Panther.
Edwards is survived by Andrews and the five children they raised together, four of whom have followed their parents into cinema and appeared in his films. He will be sorely missed.
RIP Blake Edwards 1922-2010
About The Author