Charlie Sheen and Lindsay Lohan for Scary Movie 5?!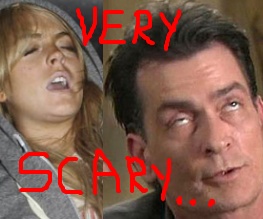 Here at Best for Film Towers we have only just found out that Charlie Sheen was actually already in TWO Scary Movie films. We know, how did this vital bit of film trivia pass us by? Well, it is Scary Movie and no one really cares. What once was a half decent but still a bit rubbish film has spun off into a franchise which is harder to kill than Glenn Close in Fatal Attraction.
After the fourth (and according to the makers, LAST..har har) installment the series has become a place for deader than dead Hollywood stars and starlets to try and claw their way back to the mainstream. Well Lindsay Lohan must be in desperate need for a manicure after this last attempt. Her life just makes us sadder and sadder (read laugh more and more.) A few weeks ago we told you that Lohan was only in negotiations to be involved in this project, but horror of horrors, it appears now to be true. Airplane! director David Zucker will be taking the helm on the project and guiding the unfortunate souls through the wasteland.
So far there are no details on plot but really, it's not like actually need any. The formula will be rolled out once more and the dirge of society will fill the cinema seats. Like Scary Movie 2,3 and 4 well will be doing anything else other than going to see it. Does your cat need worming? We willingly volunteer to do it for you instead.
http://credit-n.ru/offers-zaim/platiza-mgnovenniy-zaim-online.html http://credit-n.ru/avtokredit.html
About The Author