Cineworld Backs Away From Alice Boycott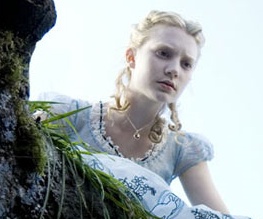 After a week of back and forth between the UK film distributors and Disney about whether the big cinemas will show Alice In Wonderland, it seems that Cineworld has broken ranks with the UK's other major exhibitors. They have announced today that despite their argument with Disney, they will show the Burton epic after all. It seems that you just can't take on the Mouse-house.
For those who don't already know, Disney originally wanted to release the film on DVD 12 weeks after the theatrical opening, rather than the industry standard of 17 weeks. After negotiations with exhibitors in recent days, the studio has agreed to stretch the window to 13 weeks, which although a pretty meager offering, was enough to persuade Cineworld to sign up.
Other European distributors involved in the boycott – including distributors in the Netherlands, Italy and Belgium – have been pretty shocked by the move, as so far there has been solidarity between those fighting the mighty American corporation. One executive stated:
"Everybody was completely caught off guard by Cineworld. I've had calls from the Belgians and the Dutch asking what happened, how could they do this? We're probably not going to play this movie, and it's really going to hurt us a lot. It would have been one of our biggest movies of the year. Disney talks about wanting flexibility, but if every studio releases two or three films a year this way, that's 70% of our business, and the only thing that's certain is that we're not going to benefit."
So does this spell the end of the boycott? With one big distributor down – Cineworld makes up about 25% of UK cinemas – is it only a matter of time before everyone else coming tumbling down? We'll have to wait and see, but our instincts are telling us that yes, yes they will. No one messes with the Mouse.
What's your take on it all? Who deserves to emerge victorious? Let us know below!
About The Author