Colin Farrell to play lead in Total Recall?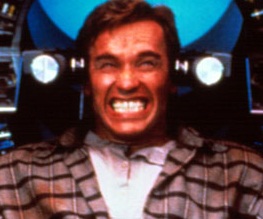 Columbia Pictures' upcoming remake of Paul Verhoeven's 1990 sci-fi hit Total Recall has apparently found its lead. Reports have surfaced that Colin Farrell has been offered the role of Douglas Quaid in the latest zero-imagination project to come out of Hollywood.
The original Schwartzenegger adventure flick is fondly remembered by sci-fi fans, providing a fun two hours with a twisting plot, great action scenes and an iconic depiction of the world of tomorrow. Dan O' Bannon's script was based on Phillip K Dick's short story We Can Remember It For You Wholesale, but adapted the basic premise to provide a more exciting cinematic version of the tale. Whilst the remake is said to be more faithful to the source material, it remains to be seen whether this could come close to the high standard set by the original.
Farrell has limited experience in sci-fi, having only previously appeared in Minority Report (Also an adaptation from the same author's work), but has a history in action films. With this casting, and Len Wiseman (Underworld, Die Hard 4.0) attached to direct, it would appear we will be faced with another mindless action rehash – and with the recent news of an upcoming Commando remake, it seems none of Arnie's past glories are sacred…
About The Author