Etan Cohen to pen Ghostbusters 3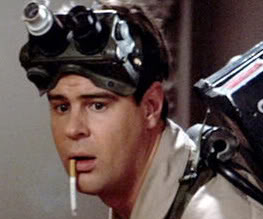 Fresh from Men in Black 3, Etan Cohen has answered the call and come to save Ghostbusters 3 from development hell. Last week Dan Aykroyd confirmed Bill Murray's statement that there was no good script yet for the long-suffering third installment and that after firing previous writers Lee Eisenberg and Gene Stupnitsky for being totally pathetic, Aykroyd was left without any potential career-reviving film to flog to death.
With a whole host of talented screenwriters attempting and failing at creating a great script we have to wonder whether it might just be wiser to let it lie. Even Bill Murray has admitted that Ghostbusters 2 wasn't very good and although aging old heroes have undergone a bit of a revival lately (Red, The Expendables) perhaps it is time to rest those old hips and aching backs and do what Murray is doing and stick to acting in roles fitting of men of their age. With Tom Cruise and others turning fifty-plus, maybe it is time to retire gracefully from action roles rather than become so knackered we have to send them off to the glue factory.
Etan Cohen does raise the spirits slightly having already proved he can write a third installment of a long since dead series very well, so hopefully he can pull it out of the bag for a second time. We really do pray that this time it will be good and are looking forward to eating our words (yum, yum) but with Cohen also poised for his directorial debut on YET ANOTHER VS FILM (Boy Scouts vs Zombies…shudder…) we have to question his ability ever so slightly. http://credit-n.ru/offers-zaim/webbankir-online-zaim-na-kartu.html http://credit-n.ru/zaymi-online-blog-single.html
About The Author