Hitchcock film has new boob-orientated clip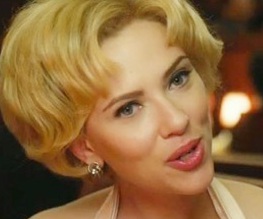 Alfred Hitchcock – master of suspense, king of cinema… and one massive jowly chap. Stepping into the shoes of such an awesome icon must be a daunting prospect but sometimes cannibal, Anthony Hopkins, is giving it all he's got. Armed with a quadrupedal chin and an unnatural obsession with attacking blonde actresses, the new clip of Hitchcock makes the film seem quite promising.
Hitchcock will focus on the relationship between the great man himself and his wife, Alma Reville (played by Helen Mirren) as Hitchcock makes a potentially career breaking decision to adapt the book Psycho for film. Obviously in retrospect we know that Psycho became one of the most highly regarded films in cinema history. Hitchcock will provide us with a fascinating look at how the infamous shower scene came to be and how it made its way onto celluloid. Hitchcock also stars Scarlett Johansson as Janet Leigh, the heroine controversially killed off halfway through the film, and in this clip she expresses some of her fears to Hitchcock.
Scarlett Johansson is a bit of an odd actress really. Whilst she always manages to do a decent (and sometimes brilliant) job, she seems to suffer from Helena Bonham Carter syndrome by always just seeming like she is playing herself. Just with different hair-dos. This time she does really look like Janet Leigh. But is that enough? I suppose the only way to judge is to wait and see how good she is at getting slashed to bits in the shower.
Hitchcock does however look great and with two British acting stalwarts in the form of Hopkins and Mirren we feel as though we are in safe hands.
In case you haven't had a chance to check out the full trailer for Hitchcock you can see it here:
Hitchcock is released in cinemas on the 8th February.
http://credit-n.ru/informacija.html http://credit-n.ru/offers-zaim/creditter-srochnye-zaymi-online.html
About The Author