Oz The Great And Powerful debuts international trailer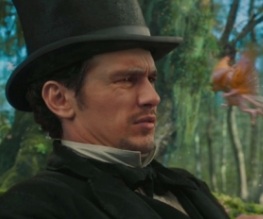 Oz the Great and Powerful has a new trailer, and James Franco's purpose in the Emerald City is starting to become a little clearer. Possibly drawing on the burning creative flame that lies at the heart of being James Franco, his travelling magician Oscar Diggs intones over muted black and white: "I don't want to be a good man. I want to be a great man." It looks like he'll get a chance after his balloon gets caught up in one of those pesky tornadoes.
And by familiar, we of course mean Tim Burton's 2010 rejig of Alice in Wonderland. The similarities don't end with the alternately bright and bold colour pallet rubbing elbows with a more creepily gothic design. The 1939 adaptation of The Wizard of Oz is fairly iron-clad in its reputation, so we're not going to get out the violins because we know how Disney feels about putting its stamp on sacred texts. But the whirlwind lay of the land that Mila Kunis's Theodora imparts to James Franco's soon-to-be wizard is some undercooked guff we've heard a thousand times. "You are here at last, and the prophecy shall be fulfilled!" is Rachel Weisz's way of saying hello, after which the trailer dutifully sets up Franco's mission to defeat the Wicked Witch and save Oz.
You know the drill: forces of good and evil (or wicked in this case), yada yada yada. There's a very Sauron-esque cloud bank at one point, and some pretty gnarly-looking flying monkeys. Franco shares some doubts about not actually being a wizard, but it seems clear that the kind of "if you believe…" tripe will eventually prevail over anything as elegant as "There's no place like home." It's unclear when exactly it happened, but the cinematic confusion of rote fantasy with the truly fantastic seems to be plowing on, full steam ahead.
About The Author