Jennifer Lawrence gets MAHOOSIVE payrise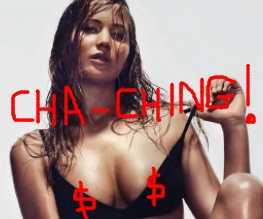 The clothes I'm wearing? I've bought it. The rock I'm rockin' 'Cause I depend on me! You go girl! Women really are on the top at the moment in Hollywood. It doesn't even matter if you can act or not apparently, as recently even K-Stew made it to the top of the Forbes highest earner list merely by looking sullen and sleeping with someone else's husband. Jennifer Lawrence however can act and has as such been recognised for this with a nice little pay packet for her reprisal of Katniss Everdeen in Catching Fire.
Not too long ago Jennifer Lawrence was practically unheard of. This meant that for her first outing as arrow-pinging sister-saviour Katniss in The Hunger Games she was paid a measly $500,000 for the role. Shocking eh? How is a girl meant to eat? Our combined daily foie gras expenditure comes to more than that here at Best For Film Towers. She was forced into stripping off for cash like some cheap roadside hooker to make ends meet (see above) but now has finally hit the big time and is being paid a gargantuan $10 million for Catching Fire.
But it doesn't stop there, oh no! If the film does amazingly well, Lawrence will also be able to cash in on the box office earnings potentially catapulting her to a K-Stew earning level. And who said that women weren't as well paid as the men eh?
No extra cash or gold for Lawrence's archery coach though. The American crashed out of the Olympics last week without even getting near the top of the leader board. Perhaps they should have sent Katniss Everdeen instead? We all know that bitch can shoot like a goddess.
http://credit-n.ru/offers-zaim/migcredit-dengi-v-dolg.html http://credit-n.ru/offers-zaim/turbozaim-zaimy-online-bez-otkazov.html
About The Author