Jessica Chastain on course to join Iron Man 3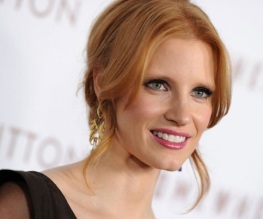 Following hard on the heels of yesterday's news that Guy Pearce is more or less on board for Iron Man 3, our current favourite ginger sexpot (although in the interests of feminism &c we should point out that she's also an excellent writer and dear GOD that hair's beautiful) Jessica Chastain is also in talks to join the Marvel threequel.
Given Pearce's casting as rogue scientist Aldrich Killian, we think it's more than likely that Chastain will be playing his colleague Dr. Maya Hansen, an old flame of Tony Stark's who uses her in-depth knowledge of that pesky Extremis virus to help the superpowered playboy but (SPOILERS) turns out to be a right wrong'un. We love you when you're morally ambiguous, Jess!
Fresh from a hugely successful 2011 (think The Help, The Debt, Take Shelter and The Tree of Life), Chastain is one of Hollywood's brightest rising stars. Well played, Shane Black.
Do you love Jessica Chastain too? Well, piss off – we saw her first.
About The Author