Charlie Kaufman to adapt Chaos Walking for Lionsgate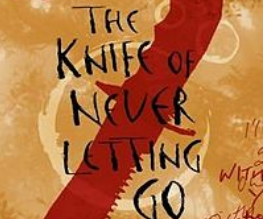 Standing proud after the runaway success of The Hunger Games, it's no surprise that Lionsgate are keen to get their claws into another lucrative franchise. Considering Catching Fire is now under the watchful eye of Francis Lawrence, the studio big-wigs are now turning their attention to a new Young Adult series – and it sounds like Charlie Kaufman (yep, of Adaptation, Being John Malkovitch and Eternal Sunshine Of The Spotless Mind fame) is on-board to direct.
Chaos Walking , by Patrick Ness, is a trilogy set in a dystopian future where a young scallywag finds he has the key to overthrow an oppressive, horrifying system. Jesus, don't these young adults ever just want to read about ponies and lovely bread or something? The first book, The Knife Of Never Letting Go introduces us to a protagonist named Todd, who has grown up believing that women have died out due to some toxic 'germ' – and as a side-effect all men can now hear each-other's thoughts in a constant, maddening drone known as The Noise.
Generally speaking, a project that can entice Charlie Kaufman must sound pretty damn interesting, and he's certainly a man who knows his way round a skewed universe. Sure there might not be quite as many child-on-child deaths (dammit), but with their new found millions it's good to know that Lionsgate can now afford to throw proper mega-talent at their projects. Stay tuned…
About The Author