Little Joe Magazine launch A Little Film Club with Hockney flick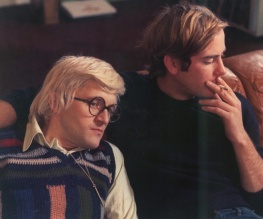 Top Queer Cinema magazine Little Joe has announced the launch of A Little Film Club, a monthly London screening programme aiming to bring a wide selection of queer cinema to your attention. Film London's new Community Pilot Fund scheme has wholeheartedly thrown their support behind it, which will also feature extended introductions, discussions and social events.
The first screening, which will go down on the 31st of January at the Cinema Museum in Kennington, will be Jack Hazan's 1973 not-quite-documentary A Bigger Splash, a groundbreaking film that used a 'structured reality' format (absolutely nothing like The Only Way is Essex) to give a unique insight into David Hockney's life at the peak of his fame. Hazan himself will be on hand to discuss the film with Stuart Cromer, Curator of Film at the Tate Modern. Quite a scoop, non?
The next screening, which will take place at the Rio cinema in Dalston (screenings will alternate between the two venues), will be Pier Paolo Pasolini's Theorem (1968) on the 25th February. The introductory price for membership is a paltry £30, which gains you free access to six months worth of screenings. Think about it, that's the same cost as like five gourmet bagels. And who can even eat five gourmet bagels? This is a much more sensible use for your quids. Check out www.littlejoemagazine.com for deets, and follow @littlejoemag for updates.
About The Author