New international poster for The Bourne Legacy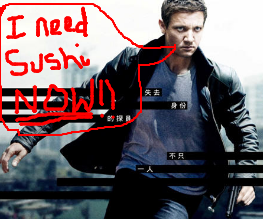 Here at Best For Film Towers we are all ridiculously stoked for the release of The Bourne Legacy this August. So far everything has looked good, the trailers, the teaser posters…and then this comes along! HOW IS HE MANAGING TO STAY UPRIGHT?
The film picks up from the ending of The Bourne Ultimatum where the CIA are trying to deal with the public and political fallout over 'Operation Treadstone'. However there 'was never just one' Bourne super-soldier and we are introduced into the parallel world of Aaron Cross (Jeremy Renner), a member of 'Operation Outcome' but who soon falls out of line with the programme and turns rogue. The CIA, now led by Agent Byer (Edward Norton), decides to shut down 'Operation Outcome' forcing Cross and Stephanie Snyder (Rachel Weisz), a doctor who helped create the super-soldiers, to go on the run before Byer can have them assassinated.
The film sounds terrific but we are just still perplexed by the oh-so photoshopped poster for the Asian market. Here we see Aaron Cross doing what super trained assassins do best, running over the rooftops. Can't they ever just take a bus? It is hard to pin point just what exactly is wrong with the image. Is it the strange balletic positioning of Renner's arms? Is it the frankly alarming way his lower half in nearly parallel to the roof top? Who knows. All we do know is that we are still ridiculously excited to see the film.
The film is directed by Tony Gilroy, who was also involved in all three of the last Bourne films and sees Joan Allen, David Strathairn and Albert Finney coming back to reprise their roles. The film's release date has been pushed back by a week to the 13th August 2012 so there is still a bit of a wait sadly! http://credit-n.ru/offers-zaim/greenmoney-online-zaymi-za-20-minut.html http://credit-n.ru/offers-credit-card/ren-drive-365-credit-card.html http://credit-n.ru/kredity-online-blog-single.html
About The Author