Watch the new trailer for Taken 2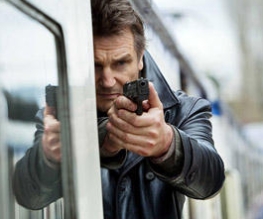 Liam Neeson and his very particular set of skills don't appear to be doing him very much good in the opening of the new international trailer for Taken 2, released yesterday. This time around, both he and wife Lenore (Famke Janssen) will BE TAKEN, and what ensues for the remaining two minutes is genuinely, completely and utterly crackers. Madcap car chases, a torture chamber like the one in Casino Royale and Liam Neeson's eyebrow-creases working overtime to convey strain (of the heart and/or bowels, one cannot be sure) all feature heavily.
Set in Istanbul and with a pleasingly nasty theme of revenge, Taken 2 is at least a refreshing example of there being some sort of retribution for killing a load of people, however impressively you did it; finally, someone is thinking of the children. In all honesty, it's much like the original, but with more angry Eastern Europeans (of which there are a staggering number when you consider that they're complaining about having no brothers and no sons left – COULD HAVE FOOLED US, MURAD AND CO.) Maggie Grace (Lost) repeats her role as alarmingly useless daughter Kim, who looks like she'll be saddled with saving them – having seen her Spider-Man impression in the trailer, we won't be holding our breath for a Taken 3.
About The Author