Listen: new samples from The Dark Knight Rises score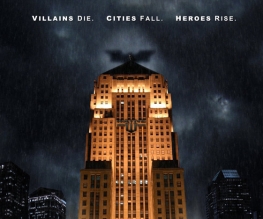 If you fancy something lovely and lyric-less to listen to this Friday morning, we have samples from the score of the upcoming Batman sequel The Dark Knight Rises. With crack composer Hans Zimmer once again on the conductor's podium, director Christopher Nolan's tendency to choose one person for every production role and pay them enough to never ever leave him proves itself once again: the score is nothing short of stunning. While not as melodically iconic as Pirates of the Caribbean – have a second to hum it – it has a orchestral charm all its own, and is considerably more sophisticated. Here's the kicker though; somehow, without a single cast member or grief-prodding image of Heath Ledger's pivotal Joker, the soundtrack manipulates you into looking out of your window on this damp Friday morning and for a half-second, believing you've seen the Bat Signal.
Highlights include 'Mind If I Cut In', the string section through which you can almost SEE Anne Hathaway disrobing, 'Fear Will Find You', which needs a Morgan Freeman spoken-word/slow-jam rap voiceover immediately and 'Why Do We Fall', which is just begging for Christian Bale to cry manly tears over his Batmobile (please, God, no) or something. With how much we're looking forward to a cast featuring all of our old favourites, as well as newcomers such as Juno Temple (St. Trinian's), Joseph Gordon-Levitt (Inception) and Josh Pence (The Social Network), we couldn't have been more thrilled to hear this at BFF Towers. What a way to spend 24 minutes.
About The Author