New Thor Clip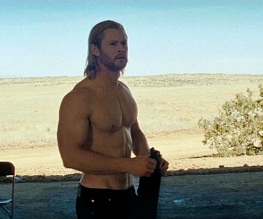 It's been at least a week since the release of the Captain America trailer, so for those of you suffering superhero withdrawal symptoms, we're passing on this little treat – a new clip from Thor. The God of Thunder has just been cast out of Asgard by father Odin (Anthony Hopkins) and lands on Earth in the middle of a circle which Natalie Portman gets wildly excited about. Poor Thor is rather disorientated and misses his hammer. Kat Dennings plays 'amusing friend' Darcy, and Stellan Skarsgard is Professor Andrews.
[swfobj src="http://www.kaltura.com/index.php/kwidget/wid/1_wl0ia42x/uiconf_id/3356382″ width="600″ height="250″]
We've already seen most of this in the trailer, so nothing that exciting. And what kind of idiot tasers a god? Thor will be released on April 27th, and the rest of it will definitely be better than this clip. We hope.
Are you excited about the God of Thunder? Let us know below.
http://credit-n.ru/zaymyi-next.html http://credit-n.ru/offers-zaim/creditplus-online-zaimi.html
About The Author