New trailer for Polanski's new film Carnage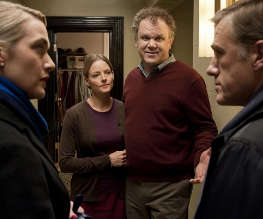 Say what you like about Roman Polanski (and the world has), he certainly knows how to draw stars to a project. His new film Carnage, based on the play God of Carnage by Yasmina Reza showcases the talents of no less than four superb actors: John C Reilly, Jodie Foster, Kate Winslet and Christoph Waltz, and we have a spanking new trailer to prove it.
Set in one room, Carnage centres on two sets of parents who have decided to meet up to discuss an argument between their respective sons. Although the evening begins very respectfully, it isn't long before politeness is shoved aside and the true feelings of all parties is let loose. Hell is other people indeed…
[swfobj src="http://www.movieweb.com/v/VImCeDbZQ6T9qm" width="550″ height="253″ ]
Funny, farcical, dark and devious. We can't wait.
About The Author