First trailer arrives for The Avengers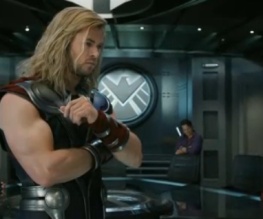 The wait is over. After months of drip-feeding us teasers and character profiles and God only knows what else, Marvel and Joss Whedon have finally given the world what it's been waiting for – a full length trailer for The Avengers.
Correction. A spectacular full length trailer for The Avengers. No more words, just watch it:
[swfobj src="http://cdn.springboard.gorillanation.com/mediaplayer/springboard/video/fstg008/673/371847/" width="620″ height="385″ allowfullscreen="true"]
Okay, let's take stock. Spooky Loki voiceover? Check. Exploding city? Check. Gratuitously cool slo-mo establishing shots of everyone? Check. Iron Man breaking every speed limit in the galaxy? Check. Hawkeye running, jumping and shooting explosive arrows? Check. Massive Tony Stark banter? Check. Nick Fury with a bazooka? Check. The pop-eyed bitch strangling people with her vagina? Check. Subtle tension between individual Avengers which is then rendered totally pointless by Thor battering Captain America? Check.
Hang on, where's the Hulk?
Oh wait. Further Tony Stark banter followed by the Hulk hulking out? CHECK, MOTHERFUCKERS!
File us under 'massive fanboys' for this one, yeah?
The Avengers is out NOT SOON ENOUGH.
About The Author