Oz: The Great and Powerful gets flying monkeys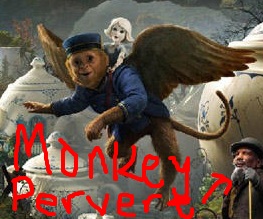 Oz: The Great and Powerful is the gift that just keeps giving! Once every few months Disney manage to blow our collective minds with yet more amazing images from the magical looking new film. Once again our walls are covered in grey matter as we stare open mouthed at Oz: The Great and Powerful this time with extra monkey love.
Serving as a prequel to The Wizard of Oz story, Oz: The Great and Powerful tells us how Oz (James Franco) goes from being an unknown magician to the great man who rules the Emerald City. Blowing into town on a hot air balloon, Franco sets himself up as the greatest magician the world has seen and wows the magical land and everyone in it. Everyone except three witches (Rachel Weisz, Mila Kunis and Michelle Williams) who suspect that the charming new comer may not be up to good.
Oz: The Great and Powerful makes us unashamedly giddy. Magicians, yellow brick roads, witches. What's not to like? And now we have seen what the new flying monkeys look like we are more excited than a lab rat that has been injected with EXCITEMENT! Teeth, claws, fuzzy hair. It looks gloriously frightening and if we were still at an age where it is appropriate to hide behind the sofa we would be doing so right about now. Take a look for yourself below: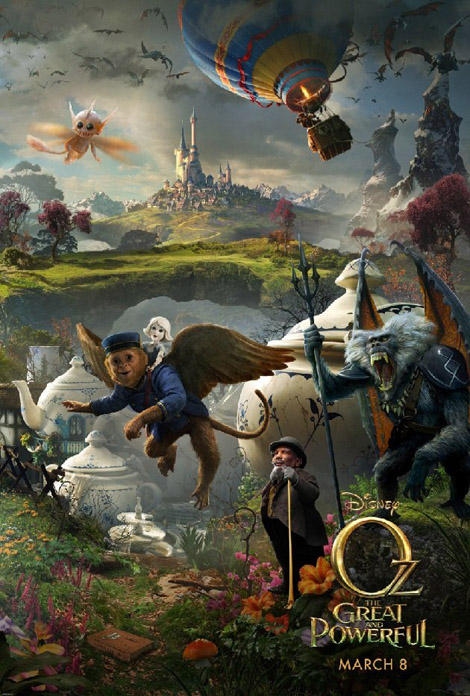 Pretty good eh? Apart from the strange little man looking at the cute monkey's ass. Whoever drew the poster really didn't give enough thought to that section. We forgive them though as clearly they were spending a lot more time creating awesome killer simians, trippy flying fairies and sweeping landscapes.
Oz: The Great and Powerful so far seems to mark a glorious return to form for Disney who in the past few years have been a pathetic let down. Oz: The Great and Powerful is going to be amazing. It just is. Don't tell us our hopes are too high. We may just have a break down if it sucks.
Oz: The Great and Powerful will be winging its way into cinemas on the 8th March 2013.
http://credit-n.ru/zaymyi-v-ukraine.html http://credit-n.ru/offers-zaim/creditplus-online-zaimi.html
About The Author