Sneak peek at Disney's Tangled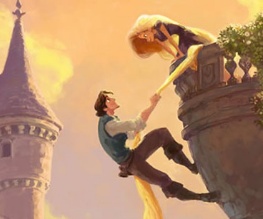 Don't get too moist in your downstairs partyhouse, this sadly isn't a full clip of Disney's next blockbuster. However, short as it is, this little peeklet of Tangled – Disney's new look at the tale of Rapunzel – does let us have a nosey at the style of the film.
All caught up
Disney have been saying for a while now that Tangled would merge the sharpness of CGI with the hand-drawn loveliness of classic kids films, and this is the first chance we've had to gauge the result. And in our opinion, it looks pretty bloody good. I mean, It looks pretty much like CGI, but it still looks pretty bloody good. We don't see much of the characters, but do get a first look at Mandy Moore as the hairy damsel herself, as well as Zachary Levi as her saviour Flynn. Hopefully there' be a longer clip to share as of next week, but for now you Disney-mongers might be satisfied with what's below. Enjoy!
About The Author