James Corden and Patrick Stewart clash at Glamour Awards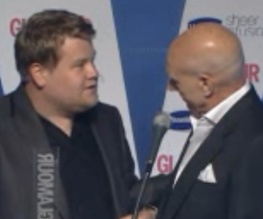 Oh God, this is literally the most painful thing we've sat through since we test-drove that cactus-mobile. At the Glamour Awards on Tuesday, comedy kid James Corden and veteren superstar Patrick Stewart were scheduled to present an award together. What wasn't scheduled was the fight that ensued.
We're still not really sure how it happened, but it seemed to begin when the X-Men star failed to recognise Corden from his hit show Gavin And Stacey ("it's James, isn't it?"). From there, somehow, the two of them descended into onstage- ONSTAGE – bickering about Corden's stomach, posture on stage and ended with Corden asking for a taxi to be ordered for Steward as, "the old man's goin' home". Jesus. How? How has this happened? Utter genius.
Want to see the train wreck for yourself? Click here, and prepare your brain tank.
About The Author