Star Wars' Princess Leia to reprise role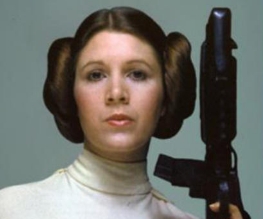 Last year, Disney created quite a ruckus when it bought over Lucasfilm, beloved makers of the Star Wars franchise that has grown a cult following from one generation to the next. After paying out £2.5 billion to Darth Lucas, it came as no surprise that their first course of business was to release a statement announcing the plans for brand-spanking new Star Wars film, Episode VII, by 2015, with sequels to follow every two-three years.
Since then, rumour and speculation has run amuck before a recent surge of news has confirmed J.J. Abrams as director, John Williams returning for the score and the iconic alumni, such as Harrison Ford, expressing interest in returning to their most famous roles.
Well, one person who is neither shy nor on the fence as to her involvement is the illustrious Carrie Fisher, who has defiantly confirmed to Palm Beach Illustrated that she will be most certainly be reprising her role of Princess Leia Organa (or as she should be now, Leia Solo).
However, before your excitement takes ove,r be aware that an official confirmation of ANYONE'S involvement has not been issued (most probably because Disney is still hashing out the contracts) so keep your ears perked for a press release once the dust has settled. For those of you fearing the worst at the thought of Star Wars in Disney hands, take heart by the fact that the contract with George Lucas retains him as a creative consultant.
Does your outrage continue at the blasphemy of it all? Or are you excited at the prospect of new Star Wars adventures? Let us know down below!
About The Author