Summit acquire rights for Deepwater Horizon film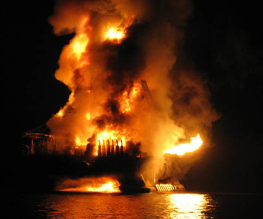 Summit Entertainment are planning to make a film adaptation of The New York Times article 'Deepwater Horizon's Final Hours' by journalists David Barstow, Stephanie Saul and David Rohde and published on Christmas Day, 2010.
The article, which is based on interviews and testimonies from over 100 people involved with or working on the rig, examines why the structure could not cope with the blowout on April 20th that caused the far-reaching disaster.
The film, to be written by Matthew Sand, will deal with events leading up to the explosion and, according to Summit's President of Production Erik Feig, "will portray the great heroism that took place last year on the Deepwater Horizon rig and how colleagues so courageously came to one another's aid."
One cannot help but worry about the eagerness of studios to jump on to the real-life disaster wagon. How soon is too soon? How sensitively can or should the subject be treated? Hopefully the quote from another CEO involved with the project referring to Summit's ability to create movies "which raise awareness of issues and inspire social change" is more than just empty words.
Of course, there is always the risk of the film becoming an oversimplified good vs evil story, or a vehicle for a Will Smith-type hero. Unfortunately, for every United 93 there is a World Trade Center. http://credit-n.ru/offers-zaim/otlnal-microzaimi.html http://credit-n.ru/zaymyi-next.html
About The Author