The Return of the Western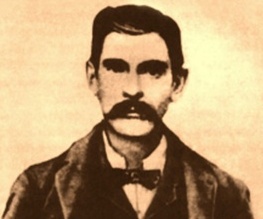 Hold on to your ten-gallon hats and strap on your spurs (actually don't, some things really are best left to the privacy of your own home), because Paramount's planning to revamp the western in a big way.
The studio is pushing a new cowboy-centred action flick, The Further Adventures of Doc Holliday, as its next big Pirates of the Caribbean-style adventure franchise. The film will centre around the legendary exploits of the Old West gunfighter, who is best known for his involvement in the Gunfight at the OK Corral and his friendship with Wyatt Earp. (Hopefully Dennis Quaid won't be reprising his role from the horrendous '90s movie of the same name, though.)
With bigwig action producer Lorenzo Di Bonaventura (of Transformers and Gh3>I Joe fame) at the helm, it could certainly do for cowboys what Johnny Depp did for pirates. Holliday was last played by Val Kilmer in the 1993 cult film Tombstone, but we're expecting a full-scale sexing up a la Eric Bana as Henry VIII in The Other Boleyn Girl. The real Holliday suffered from the decidedly unsexy tuberculosis throughout his exploits in the Old West, but like old Henry's seedy state of health, we doubt that part will make the big screen. No word on what particular bankable sex symbol the studio's got in mind yet though.
Think Paramount could make cowboys the next pirates? And who'd be the perfect pick to carry the franchise? Let us know your thoughts.
About The Author