There is a film called Hero Hitler in Love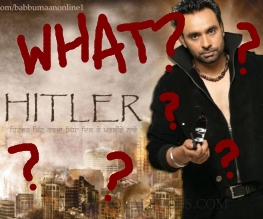 Right, here's what we know. There's an upcoming Punjabi film. It's called Hero Hitler in Love. It has, as far as we can tell, nothing to do with Adolf Hitler. Apparently it's about a dude who likes to look cool, and falls in love, and occasionally shoots other dudes in the torso. So that's… ok? Or not. Maybe. It's just that… Well, make your own mind up. we're as confused as you are:
Yeah. We haven't got the first clue as to what the actual fuck. Apparently the name doesn't have the same connotations in India, with writer, director and star Babbu Maan saying "We should not look at Hitler of Germany … Here it is used for irony and perhaps provocation but my filmmaking team felt that it was the right title for it and I agree."
It looks to be a racing movie about a guy called Hitler who falls in love, but when someone sets us a race to fail he (direct quote from the Facebook promo page) "decides to become Real Adolf Hitler". Um… excuse me?
Does… does that mean jump-kicking? 'Cause he seems to be doing less genocide and more jump-kicking in the trailer. Does Hitler mean jump-kicking in India? Is that what's happening here? WE JUST DON'T KNOW ANY MORE!
About The Author