Bunny and the Bull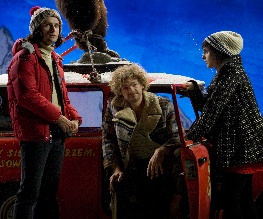 Before we begin this review, there's something we have to admit – we've never seen The Mighty Boosh. It's one of those shows that everyone raves about, but that we're rather embarrassingly relegated to just nodding and smiling and making knowing noises about because we've never actually been able to bring ourselves to watch an episode. As much as we'd like to consider ourselves brilliant, postmodernist intellectuals, we're much happier plonking ourselves in front of a predictable sitcom than ingesting surreal and non-sequiturial comedy, ground-breaking as it may be. So it was with not a small amount of trepidation that we sat down to watch the big-screen debut of Boosh director Paul King.
Luckily, Bunny and the Bull proved itself to be a movie that even the simplest of minds can't help but be both touched and entertained by. It's the story of Stephen, a young shut-in whose carefully structured daily routine is one day disturbed by a rat infestation, forcing him to relive the memories of the ill-fated European trip with his best friend that brought him to his current agoraphobic state. The flashbacks to the holiday are gloriously reconstructed in Spotless Mind-esque surreality – cardboard boxes become fences, take-away containers animate themselves into seafood restaurants and a fairground comes to life from the parts of Stephen's clock. Simon Farnaby provides great laughs as Stephen's dishevelled, drink-sodden pal Bunny, while Boosh star Noel Fielding makes an entertaining cameo as a zany Spanish matador.
Things take an unexpectedly tragic turn at the end of the film, which felt a little jarring having the emotions dragged from laughter to tears so quickly. And there are admittedly a few bits where nothing much happens and you're left looking at your watch. But the ebbs and flows are all part of the film's sweetly meandering charm, which is part love story, part bromance and part colourful, fantastical romp. It called to mind for us 2001's Amelie, although admittedly with a little more nudity and gross-out humour. But all in all, we found King's debut a surprisingly lovely way to spend a rainy Sunday afternoon.
About The Author