Despicable Me 2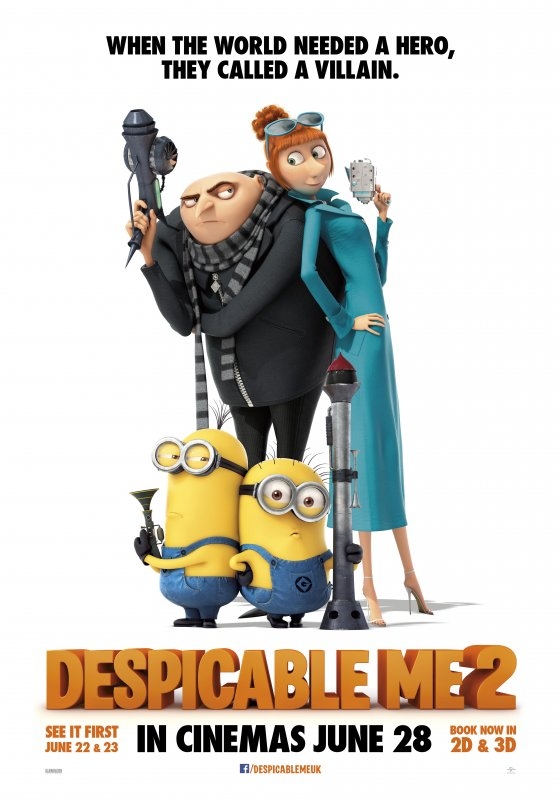 Lumbered with three children for reasons long since forgotten, Gru (Steve Carell) has given up being evil in the name of fatherhood and instead turned the rather more wholesome profession of jam-making. When a Russian research facility is stolen by some dastardly new foe, however, he is brought on board by the ingeniously titled Anti-Villain League as an advisor. Working alongside Agent Lucy Wilde (Kristen Wiig), Gru opens a cake shop in a local mall from which the mystery antagonist is believed to be operating.
Having debuted in 2010 alongside the infinitely more entertaining Megamind, another film about an evildoer forced to take on the role of hero, Despicable Me nevertheless went on to find success with children charmed by its slapstick minions and unfiltered sentiment. Rather than working on the original film's thin characters and lacklustre script, however, Illumination Entertainment instead pushes the character of Gru further into the background so that it can better focus on the unicorn-obsessed Agnes and Gru's army of marauding minions.
It's a shame really, because despite the series' reluctance to address Gru's history as a super-villain he remains its most interesting character. He is even given a more worthy adversary for the sequel — Benjamin Bratt appears as El Macho — erasing all memory of whoever it was that crossed him in the original. The most memorable scene involves a blind date gone horribly wrong, as Gru and Lucy attempt to take an unconscious suitor home after a disastrous evening. A subplot involving his overprotective behaviour towards eldest girl Margo, meanwhile, is sweet without being saccharine.
For the most part, however, Despicable Me 2 is just an advert for a minions spin-off due next year. The minions have never been funny, and here they continue to annoy as they are one-by-one transformed into an endless procession of purple-furred monsters. They speak like illiterate Teletubbies, and every gag seems to end with a slap across the face that would seem immature in a particularly uninspired episode of Tiny Tunes, let alone Looney Tunes. It's like Pixar deciding to neglect every interesting Toy Story character to better focus on the more marketable aliens. Ooooooh.
Although not without its moments (immediately setting it above the truly awful first movie), Despicable Me 2 is a witless, unfocused and thoroughly boring example of how not to make an animated movie. Neither a film for adults or children, it is simply an advertisement for 2014′s Minions and a catalogue of prospective merchandise.
About The Author