The Secret Life of Walter Mitty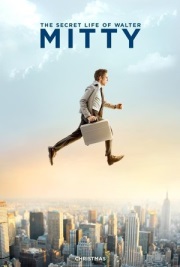 Ben Stiller feels a bit old-hat in Hollywood terms now. Now it's all Gosling this and Fassbender that, the days of the Frat Pack seem a distant memory, and indeed, you'd be unlikely to see anyone getting excited over a new Stiller movie, particularly a remake of a 1947 film starring Danny Kaye. However, The Secret Life of Walter Mitty, directed by and starring Stiller, is a gem.
Walter Mitty is a negative assets manager at Life Magazine (read: Time Magazine) – he processes the photographs that grace the cover, and more besides. However, the magazine, like many others, has succumbed to the behemoth that is online publishing, and is being downsized into a crappy website. That ain't Walter's only problem. Y'see, he daydreams. A lot. One minute he's stood on a train platform, the next he's saving a dog from a burning building. This makes impressing the jackass who's overseeing the downsizing – Adam "ugly but you don't know why" Scott – very tricky, as it does talking to the object of his affections, Cheryl Melhoff – played by the always wonderful Kristen Wiig.
As if that wasn't enough, Walter's just been sent a reel of photos from Sean O'Connell (Sean Penn), a brilliant photographer, in which O'Connell has stated is his best ever picture ever that simply must go on the cover of the last ever Life magazine ever but OH SHIT the photo's obviously not there. Enter: quest narrative. You can fill in the blanks from here.
What The Secret Life of Walter Mitty lacks in originality or edge, it more than makes up for in structure, acting, direction, and all those other things that sometimes get overlooked. Stiller is a fine director, effortlessly flitting between Indiewood quirk and all-action set pieces – a balancing act few have undertaken before.
Stiller plays the part well too, showing off his comic skills on occasion but for the most part letting the story do the work. He's very believable as the shy, intelligent type as well as the rugged, adventurous type. His relationship with his mother and sister is incredibly sweet too, really well handled. The little supporting characters too are great, each one a fully fleshed out person in their own right. The drunk helicopter pilot Stiller meets in Greenland, the skateboarding kids he bargains with in Iceland, especially the Yankophile sailor who spouts TV-learned catchphrases at him. And as mentioned previously, Kristen Wiig is wonderful. That's just another article though. Kristen Wiig is wonderful always. Kristen Wiig could make any film wonderful. Kristen Wiig could have cut her clit off in Antichrist and somehow made it work. Lars Von Trier, you leave Kristen Wiig alone.
I have a feeling people are gonna rag on Walter Mitty, chiefly because it's quite highly telegraphed and pretty predictable. However, I'm preparing my defence. This is a film that celebrates real life, tactile things, being nice to people, being in love with someone, seeing the world beyond a camera or a screen. It has a beautiful sentiment, a brilliantly composed score and wraps up nicely, neat and sweet. It's not old fashioned, it's just old. Stiller has modernised the dressing of this film but kept true to the spirit of the original story.
Also, a quick bit of research tells me Walter Mitty is from Perth Amboy, NJ. Not only is Perth Amboy a beautiful name for a town, but it's also home to Jon Bon Jovi and Bugs Bunny – a finer trio I cannot muster. Now if you'll excuse me, I'm off to go mountaineering.
About The Author