Sparkle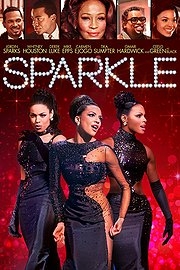 Sparkle is a remake of the 1976 film of the same name about three sisters who form a singing group against the wishes of their strictly religious mother (Houston). Youngest sister Sparkle (yes, that is her real name) harbours a desire to become a lead singer in her own right but lacks the confidence to step out of the shadow of her older sister, Sister (yes, that is also her real name). This was singer Jordin Sparks' debut as an actress and Whitney Houston's last role before she died.
The above trailer gives the impression that Sparkle is a warm and funny, if slightly hackneyed musical that will warm the cockles of your heart and have you singing its catchy tunes for days. We'd like to tell you that this is the case but much like American Beauty's Lester Burnham and his reluctance to reassure his teenage daughter that the transition to adulthood from awkward adolescence would be smooth, we don't want to lie to you. At its best, Sparkle is comically bad. Upon hearing the news that Jordin Sparks would be making her feature debut, our thoughts immediately turned to another American Idol alumna – namely Jennifer Hudson – whose powerful performance in Dreamgirls earned her an Oscar as well as countless other nominations. "Could Jordin follow in the steps of her predecessor?" we wondered. Is it possible that American Idol could have produced not just one gifted singer with a well of untapped acting potential but two? Could lightning strike twice? In answer..no. Sparks' performance brings to mind a line from one of Matt Lucas and David Walliams's comedy skits on Rock Profile: she's a lovely girl but she doesn't have the range. Sparks' self-aware and quite frankly, wooden performance is the worst kind of bad; it's too one-dimensional to be good but too earnest to be funny.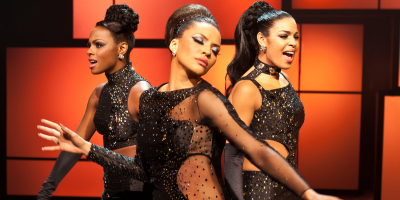 We do not, however, lay the blame for the film's failure solely at the door of its titular character. Had she posessed the acting talents of Meryl Streep she would still have been ill-equipped to take on the challenge of working around a script that includes dialogue like:
"I want to make you a star."
"I don't want to be a star."
"Yes you do."
"Ok."
Much as we love using hyperbole for comedic effect, no exaggeration is needed to communicate just how awful the script and general pacing of the film is. Characters undergo personality changes at the drop of a hat and lack the skill to pull it off. Derek Luke playing the group's manager and Sparkle's love interest, showed so much promise in his breakout role in Antwone Fisher but shares no on-screen chemistry with Sparks and delivers his lines with all the energy of a tired bus driver who's done his day's work and just wants to collect his damn pay cheque already.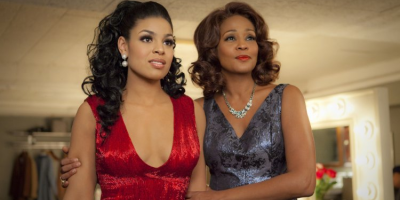 One redeeming factor comes in the form of Sanaa Lathan look-a-like Carmen Ejogo. She is captivating as the black sheep of the family who falls in with a badboy comedian and a subsequent life of fame and drugs. Unfortunately, as the plot requires her to become more and more unhinged, she is pushed to the limits of her acting capabilities and falls short of greatness. Mike Epps is also competent as her fiancee 'Satin,' but two inoffensive performances are not enough to save this film. For a musical, there are a heck of a lot of empty and emotionless scenes which just feel like padding in addition to random bursts of experimental camera-work which don't mesh with the style of the film.
Possibly the saddest aspect of the whole affair was Whitney Houston's performance as the staunchly christian Emma, Sparkle's mother. The last film we saw the tragic performer star in was The Preacher's Wife. We still remember how impressed we were with Whitney's vibrancy, her on-screen rapport with Denzel Washington and her seemingly limitless talent. What we saw here was the muted performance of someone acting behind a self-imposed barrier, trying and failing to recapture their lost magic. There is one sequence in which the old Whitney resurfaces. In church and leading the Sunday morning service, she sings a hymn: His Eye Is On The Sparrow accompanied by a choir. The irony of hearing her sing lyrics that speak of God's ability to watch out for his own, no less than three months before her untimely death, was too heartbreaking for words and it is unfortunate that the only scene that truly captured our attention was so marred by tragedy and bleak foreshadowing.
About The Author