Meryl Streep joins Suffragette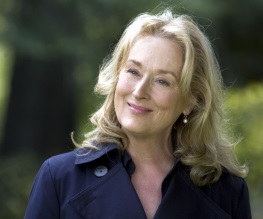 Not content with playing Witch-queen of Angmar Grantham Margaret Thatcher, Meryl Streep (who, the Guardian revealed yesterday, has been thanked more often than God in the last decade or so of Oscar acceptance speeches) has set her sights on another titan of British politics – Suffragette icon Emmeline Pankhurst.
Streep is set to appear in a small role in Suffragette, the new drama by The Iron Lady screenwriter Abi Morgan. Carey Mulligan is set to star as an early member of the militant rights-for-women movement – we're predicting a lot of impassioned cuts between Streep speaking at a rally and Mulligan in the crowd, face lovingly upturned like she's at a Mumford and Sons gig.
Next month's Oscars will reveal whether Meryl Streep can match Katharine Hepburn, the only actor or actress ever to notch up four statuettes, with her nomination for August: Osage County. She's already set the records for Oscar and Golden Globe nominations (eighteen and twenty-eight respectively), so in a very real way she's done more for women's rights than Pankhurst ever did. The frilly tart.
About The Author