Horrid Henry: The Movie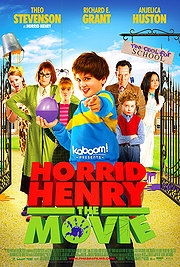 It was only a matter of time before Horrid Henry, the 21st century's alliterative answer to retro rhyming scoundrel Dennis the Menace, made it onto the big screen; and, now that he's turned up, we have to acknowledge things could have been a lot worse. Eschewing wink-at-the-parents-over-the-children's-heads submerged smut in favour of good old childish humour – in 3D! – Horrid Henry: The Movie is a wild, colourful and inexplicably musical romp which kids will love and parents will survive with relative ease.
Henry (Stevenson) isn't really that horrid, but he does seem to attract trouble. Whether his antagonist is his offensively polished little brother Perfect Peter (Ross Marron), rival gang lord (alright, snotty little girl) Moody Margaret (Stitt) or his formidable schoolteacher Boudicca Battleaxe (Huston), as soon as something goes horribly wrong you can guarantee that Henry and his Purple Hand Gang will be right in the middle of it. Henry's never weathered a storm worse than a few detentions and perhaps some TV restrictions, but when his persistent misbehaviour gets Miss Battleaxe fired he starts to realise that the consequences of his actions may be more serious than he expects.
That's not all that's going down at Ashdown Primary, though – headmistress Miss Oddbod (Front) is struggling to keep the school open, with some distinctly creepy school inspectors circling and local private school head Vic Van Wrinkle (Richard E. Grant) more than happy to scoop up any children whose parents can afford his exorbitant fees. If you suspect that this sentence is going to boast some sort of 'It's up to Henry and the Purple Hand Gang to win the talent contest, save the school and beat the bad guys!' motif, you're not wrong.
There are two very odd things about Horrid Henry: The Movie. The first is why on earth it's been shot in 3D – it's no exaggeration to say that you can take your glasses off for most of the film, because the effect simply isn't used at all for perhaps ninety or ninety-five per cent of the running time. Presumably, the prestige of being able to announce the movie as the first UK kids' feature to be presented in 3D (and the inflated ticket sales) was considered a worthy trade-off for the added time and expense of making a 3D film for no reason whatsoever. It's also a little baffling that director Nick Moore has been let back behind a camera. His only previous feature, 2008 critical failure Wild Child, was sub-St Trinian's 'rowdy teenagers at a boarding school' fare, and with the ever-popular Horrid Henry's commercial potential it's a surprise that the film was given over to such an unsafe pair of hands.
To give him his due, however, Moore helms a perfectly competent film which had the multitude of kids at the cinema I went to screaming with delight from the word go. Short attentions are catered to with frequent switches in pace between pleasantly dated repartee (think 'bogey-brain') and frenetic musical numbers, shoehorned in to contextualise Henry's desire to be a rock star like his hero Ed Banger (Noel Fielding. Wait, what?!). The young leads are all decent actors with disarmingly spot-on comic timing, and the grown-up cast (which also includes Mathew Horne, Jo Brand and, eerily, Dick and Dom of Bungalow fame) are obviously having a great time arsing about in stupid wigs. Special mention to Anjelica Huston for an almost genuinely unnerving turn as Caledonian terror Miss Battleaxe.
The galling 3D price tag aside, you could do very much worse this summer than tow any children you happen to be saddled with to Horrid Henry: The Movie. They may end up wanting to be a) pirates b) dinosaurs c) rappers or d) spies by the time they come out, but think what might happen if you take them to see Transformers – if nothing else, making the costumes afterwards will be substantially more of a pain in the arse.
About The Author