American Harmony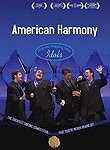 If the words 'barbershop quartet' conjures images of candy stripe suits, straw boater hats and the strong possibility of multiple moustaches…
Then it's about time to reassess those stereotypes my friend. Director Aengus James shines a spotlight on the niche singing style which drives quartets from all over the world to compete in the annual International Championships of Barbershop Singing.
The documentary follows the journeys of four competing quartets; fan favourites Max Q, self confessed "heartthrobs" O.C Times, the newbies Vocal Spectrum and the comedic competition veterans Reveille. The film spans across three years; using testimonials from competitors, family members, fans and industry insiders, with interwoven behind-the-scenes footage of quartet practice to provide a well-rounded insight into the world.
After premiering at various international film festivals in 2009, has already gathered up a handful of awards, including Best Documentary and the Golden Ace Award. This result is fairly unsurprising, as James has managed to convey an awful lot of emotion into what could have been a fact-filled, potentially boring portrayal of this overlooked form of entertainment. Fortunately, we are offered heart-warmingly genuine stories of friendship, perseverance, teamwork and failure.
The primary purpose of the documentary is obviously to entertain. This objective was easily accomplished by the frequent cuts to the amazing vocal performances, flanked by the occasional witty anecdote. Yet awe and laughter aren't the only reactions to expect. James manages to invoke empathy from the audience by capturing the raw depths of crushing disappointment alongside the soaring heights of well-deserved victories.
Now this musical genre isn't my usual cup of orange juice (I'm a tea-hater) but I have to admit – the performances were surprisingly funny, and it's difficult to resist the infectious enthusiasm of the contestants, "It's about the most fun I can have with my clothes on".
My only qualms about the film revolve around the timeline. Dates were only given during the competition scenes, so sometimes the testimonial shots were a bit confusing as the timeline wasn't always in a chronological order. Furthermore, it did feel longer than necessary, so some stricter editing wouldn't have gone amiss. But aside from that I enjoyed escaping into the fun and fast-paced world of the barbershop boys.
About The Author