Case 39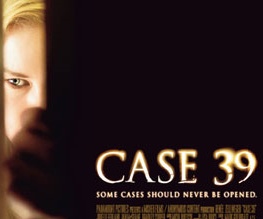 Little girls with big cute eyes can't possibly be full of evil, right? This is the premise for a lot of shock 'em horror films, where the person least likely to wield an axe with murderous intent invariably turns out to be the raging psychopath with death and knives in their heart. And it's also true for Case 29, Christian Alvart's ludicrous, supernatural yarn. In truth, this ridiculous tale should have bypassed the big screen entirely and debuted on DVD because there is little here to shock or scare us, though it does provide a few laughs at it's own expense.
German director Alvart, who came to prominence with the 2005 thriller Antibodies (Antikorper), needs to get a better agent, because he's in danger of squandering his obvious talent. Yesteryear's sci-fi bloodbath Pandorum was a disappointment, and Case 39 suffers a worse fate: It is a predictable bore.
Never work with children…
[FLOWPLAYER=http://uk.clip-1.filmtrailer.com/2154_5605_a_3.flv,275,180]
Social worker Emily Jenkins (Renee Zellweger) and Detective Mike Barron (Ian McShane) are called to an address where a little girl is believed to be in danger. Breaking into the property, the do-gooders discover Keith Sullivan (Callum Keith Rennie) and his wife Margaret (Kerry O'Malley) attempting to roast their cherubic 10-year-old daughter Lillith (Jodelle Ferland) in the oven. Thankfully, they rescue the tyke from a very public grilling in the nick of time. Emily is strangely moved by Lillith's plight and, breaking all of the rules, she allows the girl to stay under her roof, offering the youngster the love and support she has never had. The social worker also enlists the help of psychiatrist colleague Douglas (Bradley Cooper) to work with Lillith and heal the wounds from the months, perhaps years of abuse. His findings give Emily cause for optimism: with love and support, she should make a full recovery. Alas, the social worker soon notices changes in the girl's behaviour, with leads to an attack on Emily and Lillith in their home. As the strange disturbances become more violent, Emily wonders if the Sullivans might have had good reason to want to slow roast their offspring…
Case Closed
Case 39 won't surprise anyone, apart from Zellweger's wannabe mom, who seems genuinely startled by the demonic killer in her midst. Ferland has fun with her duplicitous supporting role, giving McShane a run for his money. Cooper suffers the indignity of a thankless supporting role as Emily's love interest, who comes face to face with his greatest fear in a nightmarish bathroom scene. Director Alvart provides the requisite number of shocks as his angel of death goes on the rampage, but we anticipate each and every jolt, compounded by Michl Britsch's soundtrack. All in all, it's a case that never really deserved to be opened. See you on DVD, Renee.
What did you make of the demonic ridiculousness of Case 39? Let us know below!
About The Author