Dead Man Running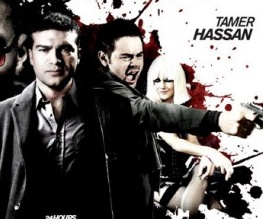 A small-time crook is given a week to rustle up the money he owes to a serious big fish, or else his loved one gets it. It's not exactly a premise of shocking originality, but Dead Man Running is a perfectly enjoyable beat-em-up ask-em-later romp that will satisfy those just looking for a bit of fun, innit gunva.
If the fact that this film is "executive produced" by Ashley Cole and Rio Ferdinand doesn't exactly fill you with confidence, we can understand why. It's not like either of them have a lot of prowess in the film-making world. But their rough and ready style (is that what it is?) suits this genre, and though there's not a lot to remember about this story, we still enjoyed ourselves.
A sweaty, bare-knuckle boxer just out of jail (Tamer Hassan) owes £100,000, and he owes it big. He's got a week to pay up to a seriously frightening American gangster (played by Curtis "50 Cent" Jackson, yeah that's right motherf****r), or his mom is gunna get whacked. His fundraising takes him and sidekick, Danny Dyer (who admirably remains pretty sober throughout), into prize fights, greyhound racing scams, drug-dealing and highly paid assassination. It's all bit ridiculous and not particularly well written, but the pace is good and the 90 minutes flies by. Comedian Omid Djali randomly pops up as a Manchester gangster, making us think that this film isn't taking itself quite as seriously as we initially feared.
All in all it's good, silly gangster fun. But don't tell fiddy we said that. Frankly, we don't have the money.
About The Author