Santa Buddies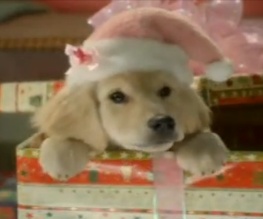 Gaaaaaaaaaaah! Bile rising… Pressure in head… at maximum… Must… Restrain… overwhelming cynicism…
And relax.
OK, so it's actually pretty hard to sit here and viciously slate Santa Buddies. Any sane person can see it's an awful, awful film. Only it's sort of… not. It's the fourth in a popular Disney franchise concerning a bunch of big-eyed golden retriever puppies doing adorable, big-eyed things and getting into adorable and mildly-perilous scrapes. It's twee, fluffy and so lightweight you might have to tether it lest it float from an open window.
But this isn't meant for embittered, shambolic husks like us. There's no room for that sour, lingering funk of desperation and disappointment that sticks to you like crypt-stench – take your befouled, fly-blown soul elsewhere. This is all talking puppies and a magic icicle and getting evweyone to bewieve in Cwistmas again. For the under 5's you couldn't really ask for more – harmless, soft-edged festive stuff with gentle lessons about generosity and giving. Christopher Lloyd, ostensibly in need of some change for a parking meter, pops up as a hard-hearted dog catcher and, in all honesty, does a far better job than you'd imagine.
In short, there's far worse festive pap than this knocking about. Stick it on sometime Christmas afternoon to distract your nephew, thus freeing you up to build that Lego Star Wars of his that you've blatantly had your eye on all morning. You big kid.
Special Features:
Singalong Christmas tunes.
180-minute docudrama charting the life of notorious Nazi Judge Roland Friesler and his contribution to the politics of the 1939 Volksgerichtshof (easter egg).
About The Author