John Travolta and Olivia Newton-John on Xmas rampage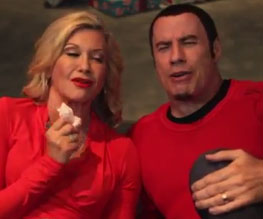 Good morning everyone. How are you feeling? Are you sitting comfortably? Good. Because we have a special gift for you this frosty morning. It's a Christmas-themed YouTube video entitled "I Think You Might Like It". Think about that title for a moment. And now, think about all the things that a video with such a title could possibly be:
– Funny cat in a festive jumper
– Adorable children singing a Christmas song
– John Lewis advert
– The Star Trek Into Darkness trailer recut to make it look like Jingle All the Way
It just *has* to be one of those right? WRONG-O MY FRIENDS, WRONG WRONG WRONG IT'S OLIVIA NEWTON-JOHN TRAVOLTA DOING A SORT OF CHRISTMAS SONG AT A PRIVATE AIRPORT AND THERE'S PRESENTS EVERYWHERE.
Drink it in. Doesn't that taste sweet? It tastes like Christmas. You liked that didn't you? What was your favourite part? Was it when John Travolta forgets his words at 2:42? Omg that was our favourite bit too! Christmas!
How did that make you feel? Honestly. Be honest with yourself. It made you feel hope for the first time in years, didn't it?
About The Author