The Colour of Pomegranates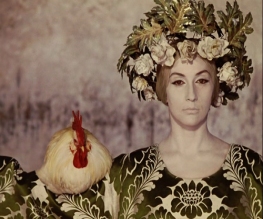 This film does not attempt to tell the life story of a poet. Rather, the filmmaker has tried to recreate the poet's inner world through the trepidations of his soul, his passions and torments, widely utilising the symbolism and allegories specific to the traditions of medieval Armenian poet trabadours. – Asbough, The Colour of Pomegranates.
The above is a paragraph of text lifted straight from the film's opening, a declaration of intent without which the viewer is unlikely to make sense of what is to follow. Whether depicting a rooster being doused in blood, a young boy dragging a tapestry between bathhouses or a seamstress transferring jewellery from her ring finger to her opposite thumb, this is not a filmic experience you are likely to forget. Replete with the sort of stilted imagery you might expect to find on a cursed video tape, only the loosest narrative unites the vignettes – a sort of life chronology that starts with a child perched on Nova's head and ends with a representation of the poet's inevitable martyrdom (flanked, quite naturally, by chickens).
As a film it is impossible to criticise in terms of characters and plot, or – at 76 minutes – accuse of being overlong and indulgent. Similarly, as a documentary, such requirements as an informative and cohesive nature are rendered completely irrelevant by the film's expressionist aspirations. What can be commented on, however, is the film's direction. Forfeiting dialogue in favour of occasional verses from Sayadin's work and demonstrating an often dizzying disregard of logic, Sergei Paradjanov has compensated with a level of subversion and allegory as yet unmatched in the world of film.
Indeed, it is telling that Paradjanov's film was banned by the Soviets not for its quiet iconoclasm but due to accusations of formalism. The film truly is beautiful to behold, and, as a 23 year old Brit 43 years after the fact, it is impossible to decode in any meaningful way. However, even without knowing the specifics of Armenian nationalism in 1968, it is clear that there is more to The Colour of Pomegranates than arresting cinematography and an unsettling mood. Laden with religious, cultural and sexual symbolism, the film is open to infinite interpretations – personal or otherwise.
Bold, breathtaking and utterly bonkers, The Colour of Pomegranates makes A Town Called Panic look perfectly rational and conventional. With a powerful history behind the making of the film, The Colour of Pomegranates has almost as much to offer in special features as it does in the programme itself. An unmatched and rightly revered achievement, Paradjanov's film makes up for what it lacks in narrative coherence with a creativity and imagination which will stay with you long after the cherubs stop knitting.
About The Author