The Slipper And The Rose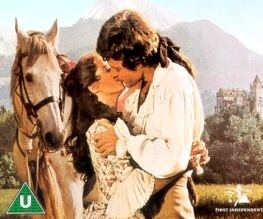 Bryan Forbes' 1976 , Academy Award nominated musical version of the Cinderella story arrives on DVD this week. Co-produced by David Frost and scored by the Sherman Brothers (Mary Poppins, Bedknobs and Broomsticks and Chitty Chitty Bang Bang amongst many others) it is a film which seems carefully designed to play inoffensively in the background at exactly 12:45pm on a freezing cold Wednesday over the Christmas holidays. What exactly it is doing with an early Spring release date, then, one can only wonder.
The film presents a straight telling of the familiar tale: The King (Hordern) and Queen (Bowers) are having terrible trouble marrying off their handsome son Prince Charming (Chamberlain). Though apparently straight, the clean cut heir to the throne angrily rejects every princess that is presented to him, insisting that he will either marry for love or remain celibate.  Meanwhile, elsewhere in the kingdom, Cinderella (Craven) is banished to work in the servant's quarters of her dead father's mansion by her wicked Stepmother (Lockwood) and step-sisters (Ayres, Hewson). When a grand "Bride-Finding Ball" is called at the castle in order to finally fix the Prince up with a woman, Cinderella is left behind by the bitchy brood who go off in search of royal cock and everlasting fortune. Fortunately, however, Cindy's Fairy Godmother (Crosbie) is on hand to mend matters, magicking a pumpkin into a coach, a bunch of mice into horses, a bunch of frogs into carriage drivers and sending Cinderella to the castle. There she wows the crowd with her stunning entrance and she and the Prince fall in love at first sight. At midnight, however, her Godmother's magic begins to wear off and…
OK, I think I can stop there. It is probably safe to say that spending any more time and space synopsising the Cinderella story is an exercise in redundancy at this point in human evolution. In fact, the best summation of The Slipper And The Rose came in the original  stage version of Frost/ Nixon. When the Jim Reston character is told David Frost will not be available the night before his interview with Richard Nixon as he is attending his latest movie's premiere he asks: ""What the one with Richard Chamberlain singing, 'ding diddy ding ding'?" which tells you all you need to know about the performances, tone and, most fatal of all, the music in The Slipper and The Rose. 
Stretching the fairy tale across nearly two and a half hours was always likely to present a tough task and it was a task unaided by the Sherman Brothers' lumpy score. The oft-awarded duo appear to have seen it fit to furnish this particular piece with leftover bits from better work. Song after near identical song plods by, assisted by Panto level choreography, the cast gamely attempting to breath interest into yet another stodgy ditty about royal lineage and proper decorum.
One must feel a little sorry for the talented actors, particularly Craven and Chamberlain, two solid old-school performers charged with the task of adding three dimensions to characters who were written with less than one.
That is not to say it is all bad. Undoubtedly it is lavish, plenty of attention being paid to the set design and costume. There are one or two lovely landscape shots. Occasionally it even manages a broad laugh. Plus it is certainly unlikely to actually hurt anyone's feelings.
In fact watching The Slipper and The Rose could best be compared to being fed slice after slice of Battenberg cake by a well meaning but overly pushy Grandmother – very saccharine, very bland and, eventually, very, very tedious.
Then again, if you really like Battenberg cake there are worse things you could do with an empty Sunday afternoon than spend a few hours watching The Slipper and The Rose. Why on earth anybody would want to permanently add it to their DVD collection, however, is another matter.
About The Author