The Twilight Saga: New Moon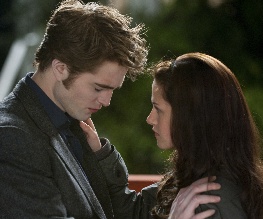 There are some things in life that are hyped up to such a ridiculous extent there's no way they're ever going to live up to your expectations. New Year's Eve is a good example. How  many Decembers have we all spent excitedly planning, outfit shopping and crowing, "This is going to be the best New Year's ever!", only to find ourselves stranded on a curb outside a long-over party, waiting for a taxi that will never come, clothes covered in cigarette burns and other people's vomit, swearing to ourselves we'd never go out on December 31st again? New Moon is the cinematic equivalent of that self-proclaimed 'biggest party of the year'. The countless teaser trailers, off-screen co-star romances and general media hype pretty much guaranteed it was never going to live up to the frenzy that surrounded it. And surprise, surprise: it doesn't.
Cheese, please
[FLOWPLAYER=http://uk.clip-1.filmtrailer.com/2409_5421_a_3.flv,275,180]
The best thing about the first Twilight film was that it managed to stay away from that typical bloated teen-superhero blockbuster a la Spider-Man. With her edgy cinematography, moody indie soundtrack and casting of relative unknowns, director Catherine Hardwicke (Thirteen) made you forget you were watching an adaptation of a fairly cheesy bestselling teen book. This film uses the hardly stellar directorial talents of The Golden Compass's Chris Weitz, and he's disappointingly chosen to render it squarely in Spider-Man territory. There are far too many whizz-bang, 'look at those vampires go'-type scenes, and in those that actually focus on emotion and mood, it's far too cheesy for words, to the point where many of the people in our cinema actually laughed out loud. To be fair, the plotline of this second instalment – where vampire Edward nobly leaves town to give his human love Bella a chance at a normal life, catapulting her into the arms of werewolf Jacob Black – had a lot more room for cheese if not treated carefully. Bella's reaction to life without Edward is over the top even in the book, and in the film it's rendered downright silly.
New moon, new man
One standout, it must be said, is newcomer Taylor Lautner as Jacob. Apart from having the most ridiculously chiselled upper body since Hugh Jackman in Australia, he brings a warmth and likeability to the character that perfectly complements Robert Pattinson's cold, brooding vampire (and let's be honest, at times makes us forget him entirely). Lautner is the most promising thing in an otherwise severely overrated film, which is surprising considering we were expecting the lack of scenes with heart-throb Pattinson to sink the film, not make it better.
Unfortunately though, Weitz and the media's Twilight-mania have managed to do the sinking all on their own. It's watchable enough, but just as bland as every other supernatural book/comic franchise we've seen remade for a mindless teen audience over the past 10 years. Frankly, the series' fans deserve better, and we're sorry to say that with the idiotic 30 Days of Night's David Slade at the helm for the next film, it's not likely we're going to get it either now or in the future.
Special Features
• The Journey Continues: A 6-part making-of documentary
• Fan Event Q&A with Robert Pattinson, Kristen Stewart, Taylor Lautner and Chris Weitz
• The Beat Goes On: The music of The Twilight Saga: New Moon
• Frame by Frame: Storyboards to screen
About The Author