UP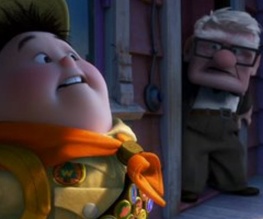 Disney and Pixar have teamed up once again to bring us yet another graphically and visually dazzling animation. It's the cocktail of action, adventure and comedy with an added shot of good morals, we have come to expect from this prosperous pairing. As always, this film isn't just for kids, in fact in some instances it's almost not a children's film at all. It's not just about a helium fuelled flying house, talking dogs, decrepit psychotic ex-explorers and chocolate-loving birds. There is also a strong heart warming, tear jerking, and every other cliche that suggests you might need to have Kleenex on you, element to the film too.
We're hauled across America on a journey to Paradise Falls in a house with an 'lift', navigated by a grumpy old widower called Carl Frederickson (voiced by Edward Asner) and a chubby boy scout called Russell (voiced by Jordan Nagaii). In a beautiful opening montage of scenes reminiscent of the golden era of silent movies underscored with music resonant of that from a gramophone, we're first introduced to Carl. A shy young boy with dreams of exploring the world like his hero Charles Muntz – an explorer who disappeared into the wilderness after being accused of forgery.
We get a glimpse of Carl's life from when he meets his wife Ellie as a child, their life as a married couple with hopes of visiting Venezuela, to him as a lonely old widow in a now modern America. Determined to keep his home from being bought and destroyed by property investors and to keep the memory of his wife alive, Carl uses the skills he learned as a former balloon salesman to literally uproot his home from the ground and fly away to Paradise Falls. When boy-scout Russell knocks on Carl's door one afternoon determined to gain a "helping the elderly badge" he unwillingly finds himself a stowaway on Carl's flying house. On their journey the two are joined by a giant rainbow coloured bird called Kevin and annoying yet charmingly chatty dog named Dug both of whom are trying to thwart Carl and Russell's mission.
There are some very funny moments in the film but at the same time it's also very touching. It is more than just a colorful children's adventure in a flying house. From the slapstick humor of having to fight off a pack of dogs trained by their master to attack, to confronting the void of missing loved ones in their life (Carl's deceased wife and Russell's absent father figure), Carl sees a glimmer of a younger version of himself in Russell and fulfils his late wife's long life dream, little Russell's hopes are also realised through their adventures. 
Special Features
Dug's Special Mission Short
Partly Cloudy Theatrical Short
About The Author