Jiro Dreams of Sushi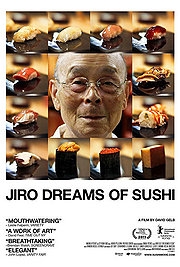 This strange and beautiful documentary from David Gelb explores the career of world renowned sushi masterchef Jiro Ono. Now 85, he is the only sushi chef to be awarded three Michelin stars, and from the look of things, may stay that way for many years to come. Minimalist and immaculate, this is not a film just for serious foodies, but one to celebrate a true living legend.
Taking us behind the scenes of his first restaurant in Ginza, Tokyo, we witness Jiro's perfectionism, his almost eccentric attitude towards flavour balance and his relentless work ethic. Not even his two sons, the elder Yoshikazo and the younger Takashi, who both run restaurants, can ever hope to equal their father's success in the industry. Yoshikazu, now 50, it said to make sushi just as good as his father's, but will never be held up to the same heights as long as his father is alive. But even when his father dies, chefs comment that "Jiro's ghost will always be there, watching". Aged 70, Jiro had a heart attack while smoking a cigarette, but now seems fit as a fiddle, still getting to work at 5am to inspect the freshness of the tuna.
Meals in his modest 10-seat restaurant come at upwards of 30,00 yen/£210 (excluding sake), so people come expecting a certain standard of sushi and, according to the film, are never disappointed. Jiro begins by asking us "what defines deliciousness?", a question he is constantly mystified by and dreams about nightly. After leaving home aged nine to go and work in a sushi kitchen, Jiro has spent the last 75 years devoting every day (apart from the odd national holiday) to perfecting his craft. The film has a zen-like quality, reflecting Jiro's demeanor and the balance that he brings to his life and work. Classical music echoes every sushi-making scene and is even compared to the restaurant's tasting menu. Chefs say the food his described as having an "orchestral quality" and each course has been compared to a movement in a concerto.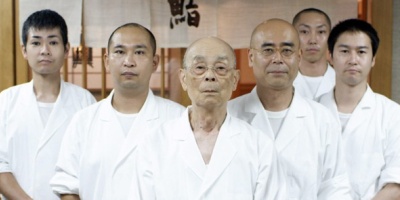 The film briefly touches on fish shortages due to overfishing, and the problems that the world must face up to, but it doesn't get bogged down with moral responsibility, and instead focuses on how each piece the restaurant use is carefully picked out at the city fish auction every morning, and treated like treasure. At its weakest points the film struggles to fill its short 82 minute length, and seems at times to be more like one of Marks and Spencer's food adverts with pictures of sushi shown in slow motion, Jiro Dreams of Sushi is so much more than an advert for the esteemed restaurant it presents.
As pretentious as it sounds, Jiro is the real deal. As his team of wonder chefs shine a light over tuna steaks, or massage an octopus for 40-50 minutes (the only way to get the flavour just right), it is clear that Jiro's methods are unparalleled and he is the most honest and worthy chef to be applauded as much as he is. Jiro's cheeky grin is enough to warm anyone's heart and by the end, you'll not only feel like eating one giant sushi feast, but you'll have a greater respect for any workaholic you know. Documentary filmmaker David Gelb, who here presents his first film to gain a theatrical release, should also be praised for creating such a touching portrait of a man with an unusual passion.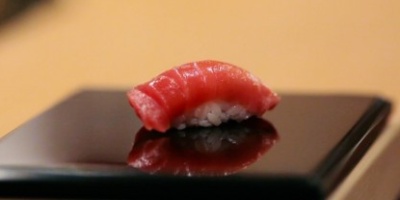 Before you see this film you could be forgiven for thinking that sushi was just a load of raw fish, or that dried up stuff you buy in Tesco that never quite fills you up, but no longer. Jiro Dreams of Sushi celebrates the ancient tradition of sushi-making and confirms that it is a craft to honour and preserve.
About The Author