Cheat Sheet: Hugh Jackman

Name:

Hugh Michael Jackman

Date of Birth:

12th October 1963

Place of birth:

Sydney, New South Wales

Special moves:

Switching roles effortlessly from action hero to romantic lead to all singing all dancing musical heart-throb with accent-chameleon skills to boot.

Films include:

X-Men, Van Helsing, The Prestige, X-Men Origins: Wolverine, Rise of the Guardians, Les Misérables
What you probably already know:
Jackman's early career was mainly spent on the stage in Melbourne in his native Australia, where he starred in musical productions including Beauty and the Beast and Sunset Boulevard. He became well known outside Australia when he played the role of Curly in a production of Oklahoma! in the West End, for which he earned an Olivier Award for Best Actor. Shortly afterwards he shot to international fame after starring as Wolverine in Bryan Singer's X-Men (2000). Following this breakthrough he starred in the romantic comedy Kate & Leopold opposite Meg Ryan, for which he received a Golden Globe nomination for Best Actor in a musical or comedy and in the action/drama Swordfish alongside John Travolta and Halle Berry. By 2002 Jackman was firmly established as a potentially dominant leading man.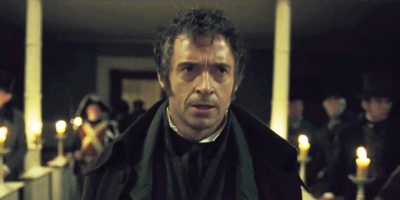 He has spent the last decade jumping from stage to screen with alacrity, notching up an impressive and varied filmography working alongside some of cinema's best actors and directors including the likes of Christopher Nolan, Woody Allen and Baz Luhrmann. Revisiting the X-Men series a further four times since the original film has brought Jackman to the attention of a very wide cinema-going audience, as well as his leading turn as the eponymous hero of the blockbuster Van Helsing and the critical and box-office Christopher Nolan success The Prestige. 2012, however, has been Jackman's best so far, with a voice part in Paramount's animated family hit Rise of the Guardians topped of with a performance that has wowed critics and audiences alike as Jean Valjean in Tom Hooper's screen adaptation of Les Misérables. This last role has so far earned him a first Golden Globe for Best Actor as well as Bafta and Oscar nominations. Hugh Jackman is now indisputably A-List and his star is in the ascendent.
What you might not know:
Jackman turned down the role of Richard Gere's character in the critical and commercial hit Chicago because he thought he was too young. He was overlooked for the role of James Bond in Casino Royale, losing out to Daniel Craig, of course. His first shot at screen success was similarly unsuccessful: on graduating from Western Australian Academy of Performing Arts of Edith Cowan University in Perth in 1994, he was offered and accepted a role on Correlli, an ABC series withdrawn after one season. However, it was on the set of the show that he met his wife, Deborra-Lee Furness, and he has said "Meeting my wife was the greatest thing to come out of it."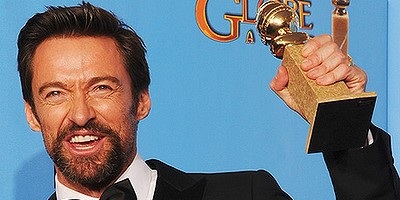 Jackman has a very wide range of interests and commitments outside of stage and screen. As a philanthropist, he is a firm believer in, and supporter of microcredit, which makes available very small loans to entrepreneurs and businessmen in developing countries. He uses his Twitter account to support charity work, and in 2009 announced via the social networking site that he would donate $100,000 dollars to a charity of an individual's choice. He ended up donating $50,000 to Charity:Water and $50,000 to Operation of Hope. He is a keen sportsman, playing cricket and rugby union, while at school he took part in high jump and was on the swimming team. Jackman plays the piano, does yoga, and has been a member of the School of Practical Philosophy since 1992.
Hugh Jackman quote:
On being voted World's Sexiest Man in 2008: "I think we ran a very strong campaign and I'm not proud of it — I can admit it now. We're the first ones to run a negative campaign and we spent years bringing Clooney, Pitt, Damon, and McConaughey down to size. I was prepared to do absolutely anything."
"I was at a Warner Bros. event and all the stars were lining up backstage. Sylvester Stallone was in front of me and [Clint Eastwood] was behind me and we were all embarrassingly close. I turned around before the line went off and said: 'Good day Mr. Eastwood, Hugh Jackman.' Clint replied: 'Yeah I know.' I continued: 'By the way, I know we've gotta go but I've been told I occasionally look like you in films.' Clint replied: 'You're holding up the line kid.' I'll never forget it. I went on stage bright red and never looked at him again. Clint has never asked me to be in any of his movies or have an audition."
What to say at a dinner party:
"Jackman deserves the Oscar for Les Mis, it's about time they gave a leading man in a musical the gong, the last time they did that was in 1965 when Rex Harrison won for My Fair Lady."
What not to say at a dinner party:
"Hugh Jackman? He's so Australian he made a film about Australia. I mean come on , there are limits."
Final thought:
There seems to be nothing that Hugh Jackman can't do these days. The range of his performances over the last decade, and the genuine affection in which he is held by his fans and peers speaks for itself. Outside of his acting career, however, he is a refreshing Hollywood role model, very much in contrast to his fellow compatriot and co-star in Les Misérables, Russell Crowe. For that, he deserves all the juicy roles and lavish praise that are surely coming his way.
Anything else you think the world should know? Drop us a comment below!
About The Author