Like Crazy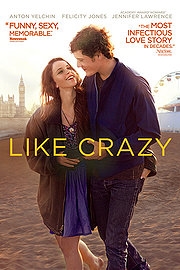 Young people are stupid. That might not be the moral that Drake Doremus wants us to take away from his independent romance-drama Like Crazy, but it's the one that pervades nevertheless. They fall in love too quickly, they're dramatic, naive, selfish and stubborn, refusing to listen to anyone except themselves. What Like Crazy does brilliantly is remind us all of the smooth-skinned time in our lives where love really could conquer anything, as well as what happens when life starts to seep in at the corners.
Anna and Jacob meet at University in LA; she's a London born lass determined to become a writer, he's an aspiring furniture designer with a penchant for chairs and Paul Simon. After exchanging shy glances over assigned papers, Anna leaves a letter under Jacob's windscreen wiper and – bemused but intrigued – Jacob takes her up on her offer of coffee. One Running Across The Beach/Holding Hands In A Fairground montage later the two are inseparable and, despite their love-struckiest of efforts, thoughts invariably start to turn to the end of the year. What on earth will they do when Anna has to return to the UK?
Yep, it's long distance relationship trauma ahoy, and though you'd be right in thinking it doesn't sound like a particularly original premise – in fact last year alone we've had Justin Long and Drew Barrymore's take on it in the underrated Going The Distance – the raw and immensely touching Like Crazy cannot fail to win you over. Drake Doremus approaches the topic with a lightness of touch and space for improvisation that makes every relationship we witness feel honest and engaging. From the glowy dinner parties with Anna's whiskey-loving family to the sullen arguments about hunky next-door neighbours, the director's gentle grip on the dialogue means that his actors have space to feel their way through the script and its characters, resulting in moments of real screen magic.
The success of the picture really comes down to the chemistry between the two leads and, whether down to careful directing, natural camaraderie or pure, unadulterated Acting, Felicty Jones and Anton Yelchin are desperately believable as a young couple tripping over the cusp of adulthood. From their bright-eyed first moments to ugly, petulant snapping when things start looking bleak, this never feels like an on-screen relationship. Instead, as an audience member you feel – at times almost to the point of discomfort – that you've been given access to snapshots of real lives.
Of course, a tone as naturalistic as that of Like Crazy is a bit of a double-edged sword, and though the film is charmingly fresh and innately believable, the loose, unwritten-like dialogue does at times begin to drag. Anna and Jacob's back-story and surrounding characters are sketched pretty broadly and, with very little to go on except the glimpses of their time together, you're forced to fill in the gaps with your own assumptions; the resulting film being only as touching as you make it. But niggles aside, there's certainly something rather brave about Drake Doremus unassuming little feature; a showcasing of heartfelt romance in a truly un-romanticised way. Why aren't there more films like this?
About The Author