Sony hires writers for Zorro prequel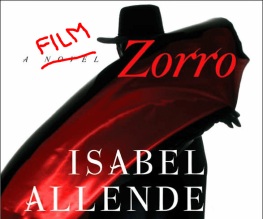 Well, this is jolly interesting. Deadline reports that Sony has commissioned veteran TV scribes Matthew Federman and Stephen Scaia (Human Target, Warehouse 13) to write a script for a planned Zorro film – the first to come out of Hollywood since 2005's The Legend of Zorro, in which Catherine Zeta Jones plays an absolute twat.
However, this isn't the post-apocalyptic Fox reboot we were hearing about a few months ago; rather, Sony are planning to adapt Isabel Allende's 2005 novel Zorro, a mock biography which for the first time explored the background and origins of the Fox himself.
Interestingly, Zorro drew inspiration from both the original Zorro novella The Curse of Capistrano and the hugely successful 1998 film The Mask of Zorro, starring Anthony Hopkins as the ageing Don Diego de la Vega and Antonio Banderas as his hot-headed protégé Alejandro. This will presumably make the central characters a little more familiar to those who've seen the recent films but never got involved with the original pulp novels (to be honest, has anyone?). No more news for now, but we'll be watching this one with interest. Huzzah!
About The Author