The Adventures of Tintin: The Secret of the Unicorn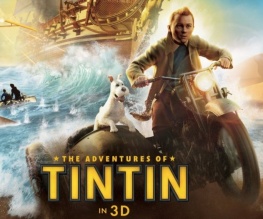 Introduced to Hergé's world of boy journalists and spoonerism-prone police officers by a well-meaning reviewer, Steven Spielberg fell instantly in love with Tintin and his adventurous, Indiana Jones charm. And why shouldn't he; the Tintin franchise has shifted over 350 million books, been translated into over eighty languages and inspired everyone from Andy Warhol to Charles de Gaulle. Not bad for a comic-book character devoid of both superpowers and his own personalised Disneyland ride.
Spying a bargain and acquiring a model boat, roving reporter Tintin (Bell) immediately finds himself protecting his purchase from two other would-be customers. Warned by one that his life is now in danger, Tintin is left bewildered as his benefactor is murdered and his model stolen. When the man responsible is unable to find what he is looking for – a small parchment that fell from the replica when Tintin's dog Snowy accidentally broke it – he kidnaps the reporter and smuggles him aboard the Karaboudjan under the nose of the ship's alcoholic captain. Escaping from his confines, Tintin befriends Captain Haddock (Serkis), who is himself being held in a sort of prison, and departs the ship on a lifeboat. Setting sale for Morocco, his captors'  original destination, the two slowly unravel the mystery of the model ship's worth, entering into a race to discover the whereabouts of Red Rackham's (Craig) treasure.
One thing that works brilliantly is the film's Frankenstory, crafting a thrilling and easy-to-follow narrative from what are essentially three separate plots consolidated into one. Tintin seamlessly introduces the main characters along with supporting players Bianca Castafiore (Kim Stengel), Thomson (Nick Frost) and Thompson (Simon Pegg), whilst getting our heroes to wherever they need to be for Peter Jackson's inevitable sequel. Jamie Bell's Tintin and Andy Serkis' Captain Archibald Haddock have a wonderful chemistry – their relationship produces many of the film's most successful gags and scenes – and the plot picks freely from some of the characters' most memorable moments.
It is also worth mentioning at this juncture just how effectively Hergé's artistry has been recreated for the big screen. Spielberg, free from the constraints imposed by live-action movie-making, has tapped into a level of visual creativity that is quite simply breathtaking. There is a definite Scott Pilgrim vs. The World quality to the editing, as one scene bleeds into the next – up through a puddle or straight into the reflection of a bursting bubble – with startling levels of fluidity. Embracing the artist's patented ligne claire style, and having audiences point their 3D glasses at it, Tintin is one of the most visually arresting and compelling movies in recent memory.
The Adventures of Tintin: The Secret of the Unicorn is not without its flaws, however, with some elements of Hergé's creation not translating to cinema as effortlessly as others. The first issue is the film's dialogue, an unexpected criticism considering the collective who contributed to the screenplay (Steven Moffat, Edgar Wright and Joe Cornish). Thomson and Thompson are particularly short-changed in this respect, their wordplay failing to make an impact onscreen in the same way that it did in the books, while Tintin himself is routinely left to explain the plot. The second problem is the film's finale. Rather than drawing from the treasure hunt that dominates Hergé's Red Rackham's Treasure, the film instead skips most of the book's plot in favour of an emotionless crane-duel in which each contraption takes it in turns to knock girders out of the other. A few points on your creative licence for that one, Mr. Spielberg.
For the most part, however, The Adventures of Tintin: The Secret of the Unicorn is high-octane excitement from the film's inspired opening montage to its jewel-encrusted climax at The Eagle's cross. Flawless casting (Andy Serkis, you ARE Captain Haddock), spectacular set pieces and a mesmerising John Williams score help to make this Tintin adaptation a worthy and arresting success, while Spielberg's channelling of Hergé proves – somewhat unsurprisingly – to be the most fun you're likely to have in the cinema this year.
About The Author